Your Members' Expectations – Exceeded
Become an irreplaceable resource for members with content that helps them succeed – and fuels engagement.  
Associations and buying groups aspire to create value for and engage their members. Content is one of the most effective ways to do so, but finding the time to produce the quality assets members deserve is a challenge. We're here to help you realize the content opportunities on your wish list – from blog posts to industry outlooks – so you can provide the experience members crave. 
Grab our industry flyer for all the details. 
Reach out! We'd love to help.
"Lindsay and the 3 Aspens Media team are outstanding at what they do. Lindsay's reputation in the industry precedes her. They are easy to work with and I feel like they truly understand our business. 3 Aspens produces consistent, quality deliverables that are spot on for our industry. We love the collaborative process and fresh ideas they bring to the table. No matter the size of your company, I highly recommend Lindsay and her team for all your content marketing needs."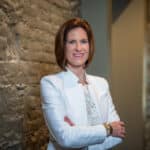 President, NetPlus Alliance

3 Aspens Media helped NetPlus Alliance launch a proprietary Quarterly Industry Outlook their customers can rely on for critical industry trends, benchmarks and more. 
What can associations and buying groups do with content?
Educate and engage members.
Provide the high-quality, helpful resources members expect as part of your network in the form of blogs, guides, ebooks, newsletters, reports and more.  
Gain a reputation for helpfulness and improve visibility with SEO, social media and other tactics that drive attention to your brand. 
Demonstrate industry expertise and authority.
The foundation of your organization is industry expertise. Amplify that with strategic content that shows your depth of knowledge. 
Content is a differentiator when it's helpful, authentic and high-quality. Give your members resources they can't get anywhere else. 
Meet members where they are.
Members want to interact with you in different ways, such as your website, social media and events. Content helps you meet their expectations. 
How will you use our services to showcase your expertise?
Reach out to start the conversation.
Newsletters (Print/Digital)
Stay in touch with your members with regular, high-quality print and digital newsletters. Our team drives and supports:  
Editorial planning 

 

Writing articles 

 

Image selection

 

Design 

 

Print preparation and coordination

 

Digital publishing 

 

Project management 

 
Industry Outlook
Produce a custom industry outlook for your members on a quarterly or annual basis. Lean on us for:  
Member surveys 

 

Data analysis 

 

Follow-up member interviews 

 

Articles covering analysis and insight

 

Editing of contributed articles  

 

Custom data visuals 

 

Report design and publishing 

 
Research-Based Reports
Develop original research around topics relevant to your members or synthesize and repurpose existing research to extend its value. We can facilitate:  
Planning, custom to your needs 

 

All production: research, writing, design 

 

Recommendations for follow-up promotion 

 

Additional related content development to extend the life of the research 

 
Read more about conducting original industry research. >> 
Blogs and Guest Posts
Build an online resource library for your members with blogs and/or grow your reputation by placing bylined articles in industry publications. We help organizations with:  
Editorial planning and calendar 

 

Ghostwriting in various content formats 

 

Editing contributed content 

 

Publishing blogs on your website  

 

Support for online user experience  

 

Identifying and working with the right publications for guest posts 

 
Audio and Video
When it comes to absorbing information, everyone's different. Supplement your text-based promotional material with thoughtful and dynamic videos and podcasts. We'll help you:  
Pinpoint subjects that would benefit from a multimedia approach 

 

Craft scripts for audio/video content 

 

Produce said content 

 

Position said content on your website