Are you a distributor who wants to expand their online footprint? Are you a marketing professional looking to create a more robust customer experience, both online and off? Then it's time to think about expanding your industrial marketing strategies to include content development.
We know that getting started can be overwhelming. And it's not uncommon for many industrial marketers to find themselves confused on the type of content they should develop. A common mistake is to jump right in to content creation without a well thought out plan. Not only is it bad for the user, it's bad for business. Here's why:
How Search Engines View Bad Content
There's a lot of content out there and it's not always of the best quality. Content mills have churned out massive amounts of cheap content in an attempt to flood the market and catch the eye of search engines. Antiquated marketing tactics steeped the old internet with false information and less than stellar content that drags searchers down and through endless rabbit holes. Not to mention the use of outdated SEO practices like keyword stuffing, link manipulation, paid links or over-optimized content. These, and more, violate search engines' terms of service.
Fortunately, search engines like Google have grown wise to these tactics. Search engines have a complicated algorithm in place that judges the content on your webpages to determine its value to those searching the web. Less than ethical tactics can result in your pages being penalized and once that happens, you've got a long road of repair and remediation ahead.
For those searching for guidance, I've found Backlinko houses a wealth of information and training tools to improve rank and get more traffic through good, quality content. The key to exceptional content creation for your company's website is to follow a defined set of rules that delivers a superior user experience and helps searchers find the information they are looking for.
Related: Become a Market Leader by Improving Online User Experience
If this sounds like I'm speaking another language, don't worry. It's why you reach out to professionals to handle this type of work for you. Content writing services from folks well-versed in industrial distribution and the supply chain can eliminate this stress. I just want to let you in on the why's and what's of the work we do, so you are informed as well.
Related: How to Build an SEO-Friendly Blog Part 1: Site Structure
The fact is that without a clear plan and set goals, a content marketing strategy can get off track and you risk losing your customer's trust. Great content starts with a great recipe. Combine great content writing skills (art) with data and research (science), and you'll wind up with content that is helpful, honest and connects with your audience. The big win? Your customers will begin looking to you for guidance and advice, rather than your competition.
Understanding Content Marketing and the Industrial Buyer's Journey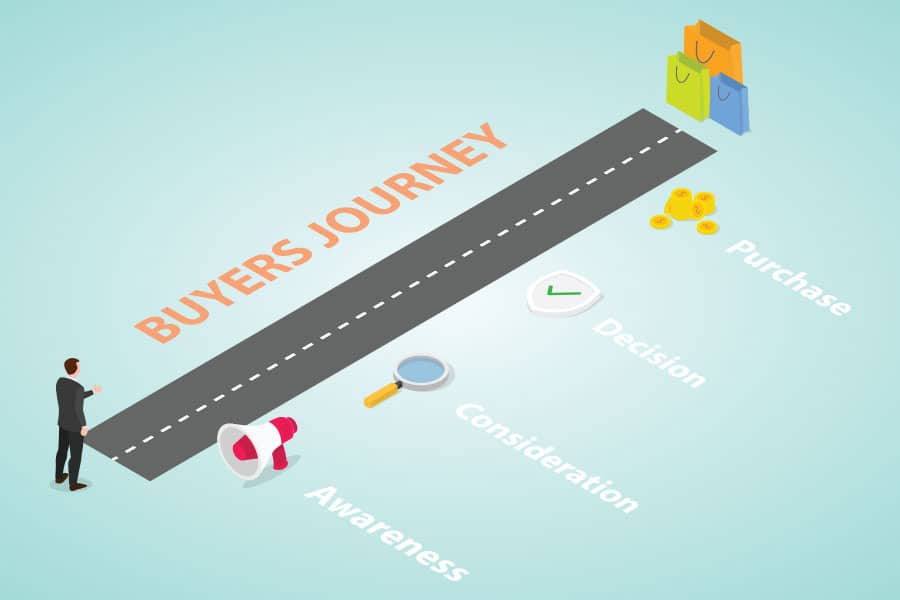 Let's be clear about the term content marketing. HubSpot defines it as the process of planning, creating, distributing, sharing and publishing content that reaches your target audience. The idea behind content marketing for your business differs from the goals associated with creating sales copy for a landing page. With sales copy, the goal is to sell a product or service, but content is designed to bolster sales in a different way. It's more salesy, while content is more helpful. Confuse the two and you confuse the reader. That's not to say companies shouldn't use both strategies but be very clear with when and how you introduce them.
Here's why this is important:
Today's consumers are savvy and spend a great deal of time researching potential purchases before they ever speak to a sales representative. According to a 2018 study performed by Salesforce and their research partner Publicis.Sapient, 87% of potential buyers begin researching products online before making a purchase. They want access to helpful information about products, services and applications and they want a relationship with their supplier.
Content marketing helps businesses offer that guidance through all the various stages of the buying process — otherwise called the buyer's journey. Not sure what the buyer's journey looks like? Let's explore a simplified version:
Awareness Stage: If a potential customer is just starting on their purchasing journey, they may be looking for information related to a specific query. They may not fully understand the "problem" they have and are looking for guidance on next steps. They are typically not ready to buy at this point and putting a product in front of them right away may be off-putting.

Blog articles, checklists and eBooks are helpful here.
Consideration Stage: If a potential customer has done their research and decided their next steps are to involve finding a solution, they may want to compare products and see what's best for them.

Case studies, product reviews, FAQ pages and product data pages are helpful here.
Decision Stage: When a potential customer is ready to purchase, they are trying to decide who they wish to purchase from. Will it be you or another provider? This is where you make the decision for them easy and enjoyable.

Call to actions that include free trials, demos, consultations and special offers are helpful here.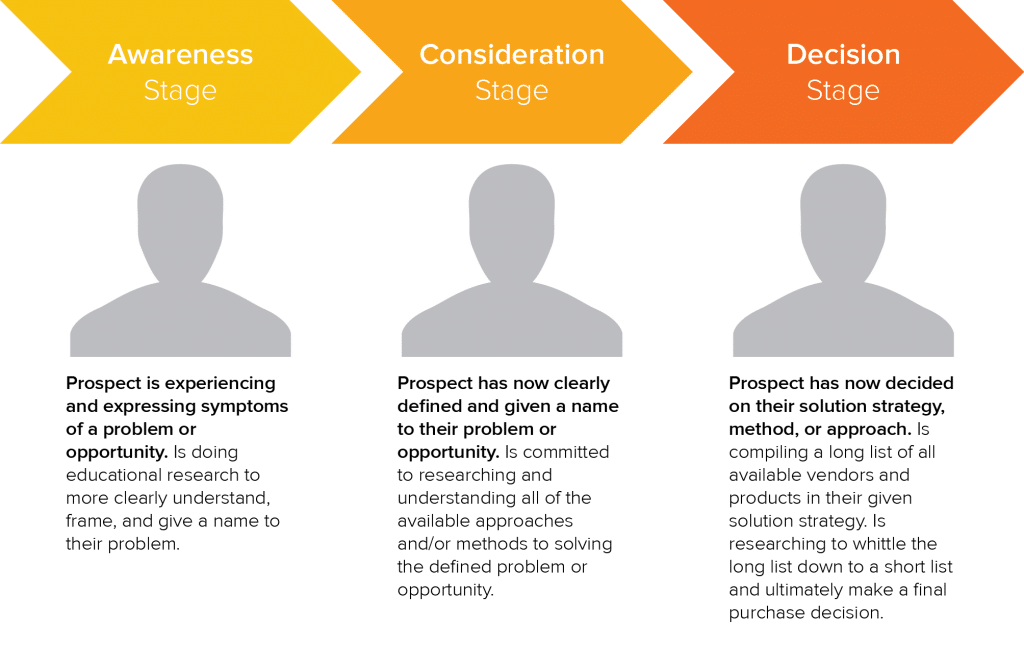 There are a few ways to gain a better understanding of where your buyer sits in terms of their journey. Talk to them, ask them questions about how they seek information, how they make decisions, what's important to them and where they like to find the information they need. These are the first steps in developing your customer profile, or buyer's persona. Once you have this data, you can use it to help guide your content creation.
Related: B2B or B2C Content Marketing: Who's Your Ideal Buyer?
Sounds overly simple, doesn't it? The truth is that even though this method seems elementary, many companies fail to implement it. They remain stuck in the old ways of doing business or relying on outdated tactics that don't work. With the global economy we live in, competition is everywhere. That's why it's critical to create content that wins over your customers, builds trust and engages with them everywhere they spend time. That may be through blog articles, emails, social media, industry journals or your own product pages.
Reach Your Buyers with These Content Marketing Trends for 2020 and Beyond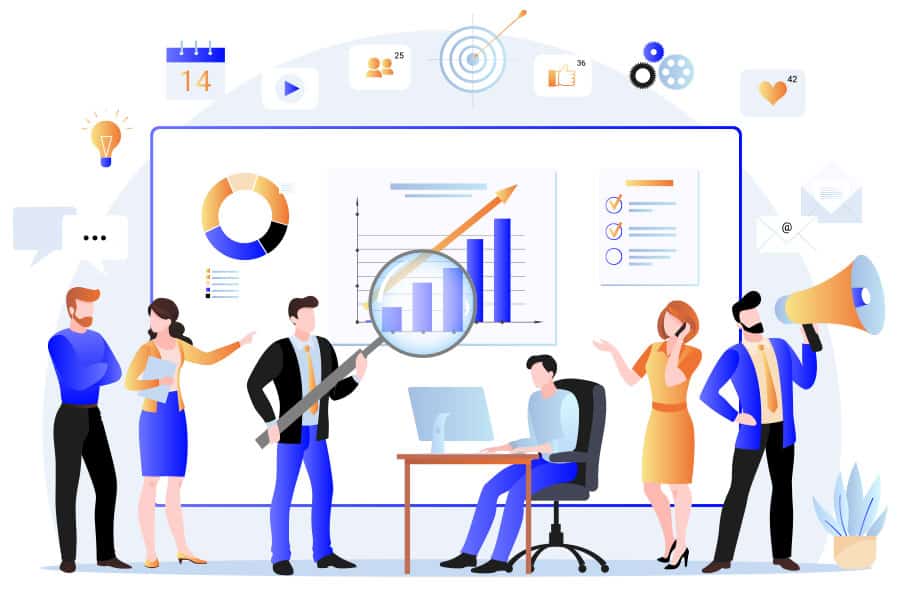 Have you ever heard the phrase, "Marketers ruin everything"? It goes back to the days of Mad Men advertising firms and is common today with digital marketing. Once you discover what's working and bringing more and more customers to the table, today's search engines get wise and change things up. This is to ensure their searchers have the best user experience possible and marketers don't take advantage. Every so often, we content writers and marketers must adjust our approaches to help our customers get maximum exposure.
Let's take a look at what Forbes has to say about their top three strategies for creating effective content marketing in 2020.
1. Optimize for Voice Search

I'm sure you have been following all the recent advancements in technology. From turning on televisions to ordering groceries and locking up your house, voice-activated technology has changed the way we live. Now, it's becoming more and more common for users to speak directly into a device rather than type into a search bar. Voice search looks for your content to reflect the way people naturally speak, to be optimized for location, and to answer commonly asked questions.
2. Be Honest and Transparent

Today's buyers have high expectations of what they expect from the companies they do business with. They value transparency and honesty. They want to see that your company stands for something. It's likely to be a deciding factor when up-and-coming buyers are making their purchasing decisions. Be honest and straightforward. Bring them into your world just as much as you immerse yourself in theirs. Be available and encourage engagement through conversations, contests and giveaways.
3. Personalize Messaging to Connect

Have you ever received an email that was clearly sent to hundreds of others? Did it move you and make you immediately want to do business with them? Chances are, it didn't. That's because people want to matter. And, there are simple ways to personalize your messages. Machine learning and Artificial Intelligence (AI) are tools that can help you create deeper relationships with your customers. There are other ways to personalize your messages as well. One simple way to do this is to segment emails based on preferences and interests. This helps you send your audience messages they actually want to receive.
Here at 3 Aspens Media, we are inspired by creating quality content. It's our passion. We want to help your company succeed through customer-focused content, data-driven strategy and our own industry knowledge. Let us know how we can help you get the results you're looking for today. Reach out to us at [email protected].