Editor's Note: This blog was originally published in May 2019 and has been updated to reflect recent changes to Google's search layout in 2020.
Google's search engine results page (SERP) – what shows up after you search for a term – is always changing. Ranking at the top of a Google SERP used to mean earning position 1 in the list of 10 blue links on page 1. But times have changed. The phrase "position 0" was coined a few years ago as Google began to populate snippets or widgets of content directly onto a SERP.  We'll discuss many of the features you see today on a SERP and highlight how you can optimize your content to be included in those features.
The Old Google Search Engine Results Page (SERP)
Google is continuously iterating on not only their search algorithms but also the layout and display of how search results are formatted and presented to users. Look back at a Google search results page from 2008. Remember this simple layout with 10 blue links on a page? (Image from Marketingland.) Google launched their search tool in 1998 and their advertising platform Google AdWords debuted in 2000.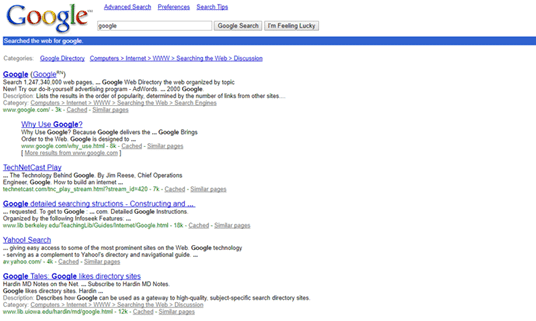 A Google Search Engine Results Page in 2020
A SERP looks much different in 2020 as Google moves more and more toward answering a users' questions and meeting their search intent directly on the SERP. In many cases, users no longer need to click on links and visit websites to have their search problem solved.
SparkToro reported in June of 2019 on data gathered from more than 40 million searches in the U.S. that less than half of Google searches actually result in a click. 45% of searches do result in a click to an organic link (non-ad) and then 4.5% of Google searches result in a user clicking an ad. Recent changes to Google's SERP in early January 2020 may change these percentages dramatically – with ads potentially seeing a substantial lift in click through rate (CTR).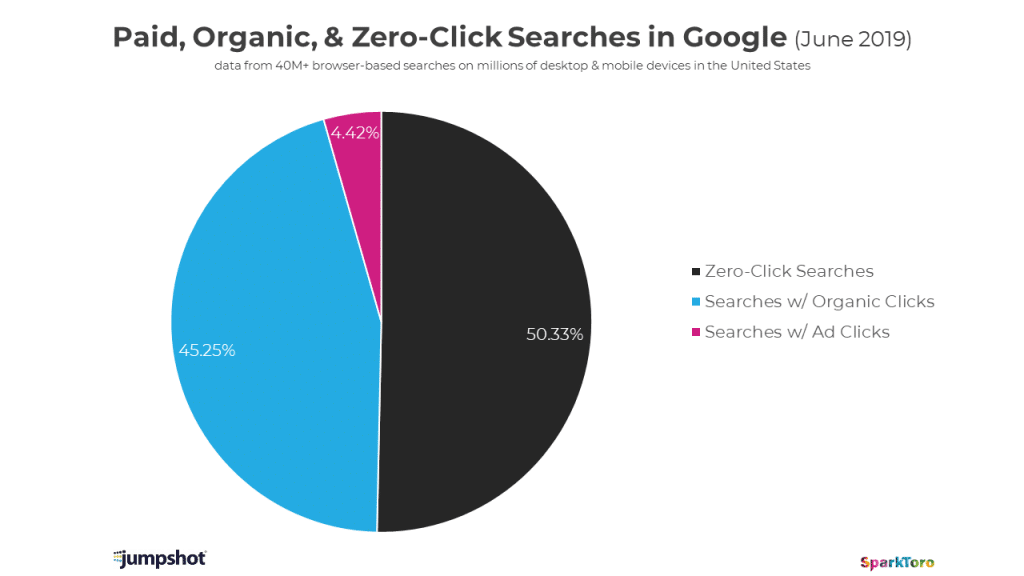 The Anatomy of a SERP in 2020
Recent changes to Google's search layout were rolled out in early January 2020. Those changes created quite a bit of controversy and resulted in an unusual turnaround by Google. The changes were even reported on by the New York Times in a piece January 31, 2020.

In short, Google released a desktop SERP update on January 13, 2020 with the stated intention to have the desktop SERP more closely mirror the look of mobile search results. The essential change placed a company's flavicon and page URL above the traditional page title (blue link). See image below. Can you make a quick distinction between ads and organic results in this example?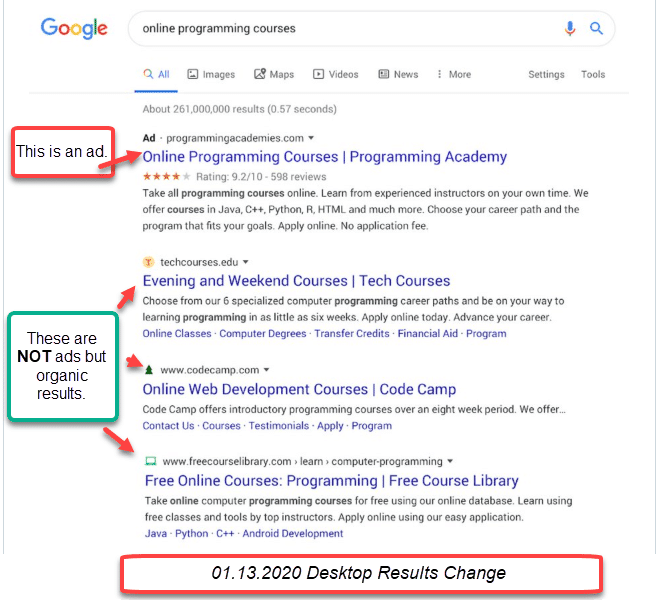 If you can't make out the difference between the ads and the organic search results in the screengrab above, you're not alone! The one unique feature denoting an ad is the bolded black letters "Ad" before the URL. Otherwise, the organic (non-paid) search results look astounding similar to the ad returned at the top of the page.

Public backlash in the week following the updated desktop SERP design prompted Google to release a statement on January 24, 2020 noting that "We've heard your feedback about the update. We always want to make Search better, so we're going to experiment with new placements for favicons…." So if you perform a Google search today on a desktop you may or may not see the flavicons but you will still the URL above the page title.  Stayed tuned for future changes to Google's search layout and continue reading to review the current anatomy of a Google SERP in 2020.
Google Ads
Depending on the search query, Google will populate ad campaigns right at the top of a SERP. The more popular and competitive a phrase, the more ads you will see. Notice on this SERP for the phrase, "call tracking software," we see four ads before the organic results even begin.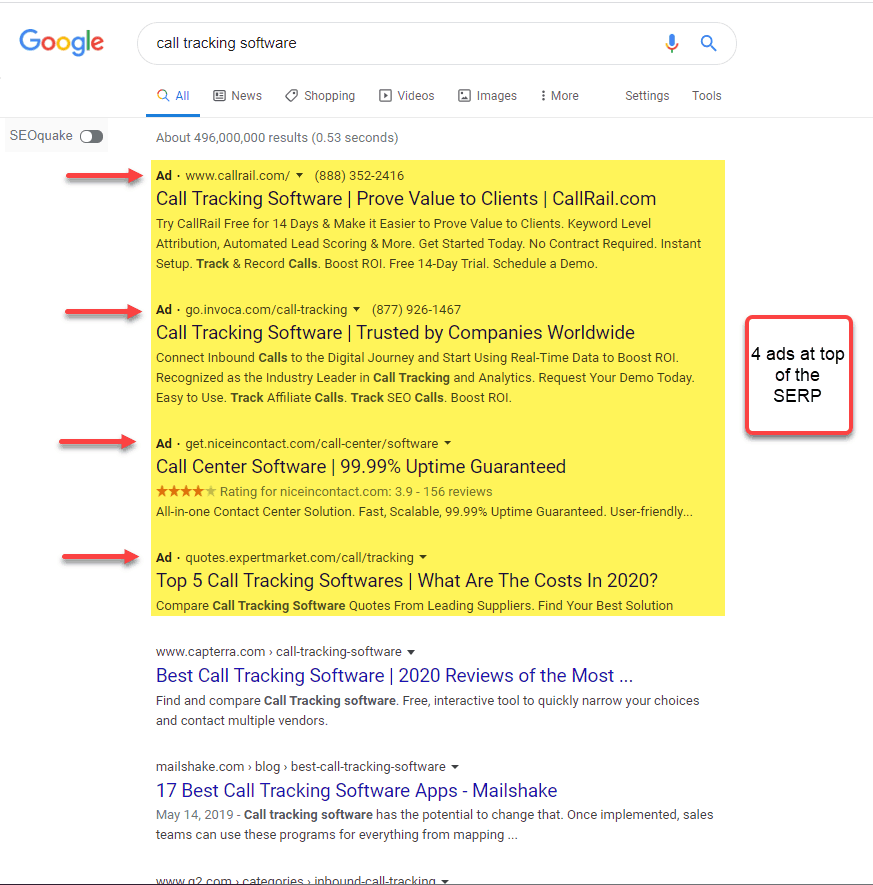 Ads appear dramatically different on a Google search layout in 2020 than they did in 2007 and before.

Each year the visual clarity of an ad becomes more and more subtle, thus making ranking organically in search even more competitive. Thank you to Search Engine Land for compiling this timeline of Google ads. Click image to enlarge.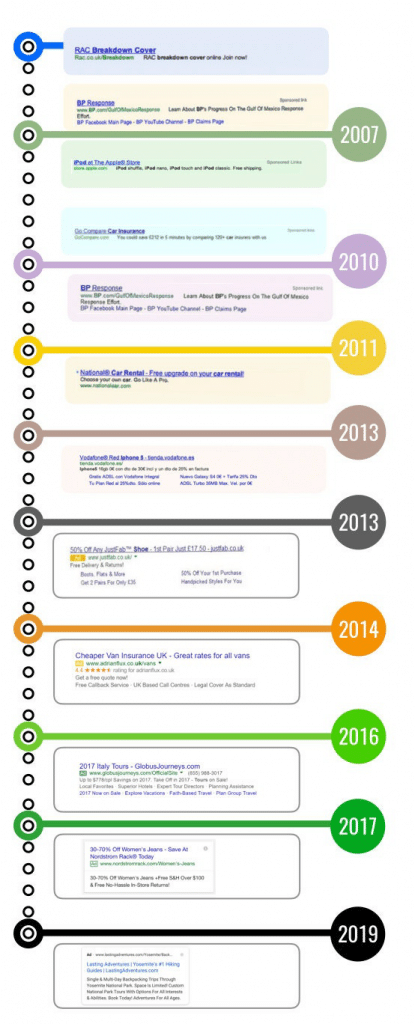 Featured Snippets
Featured snippets come in various forms and consist of content pulled from third-party websites. Featured snippets appear above the traditional Google list of 10 links. Google usually will give attribution to the website the content is pulled from.

Featured snippets are featured on 10%-15% of search queries and are highly coveted. Almost all the sites that earn a featured snippet are already ranking in the #1-#10 position of organic results. So be mindful before you consider optimizing your existing content to win a featured snippet that it should already be ranking in position 1-10.

The most common forms of content you'll see in featured snippets include:
Paragraph extracts
Numbered lists
Bulleted lists
Content already in a table format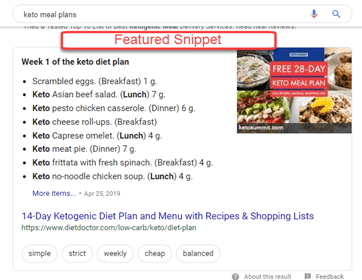 Why Are Featured Snippets So Important? Voice Search!
To begin with the obvious, featured snippets are at the top of a SERP and most users won't scan very far down a page, especially if the snippet has an attractive image. So you want your content to appear at the top of the page and earn a featured snippet, in those cases where your content can answer a query (or even partially answer a query) in the formats mentioned above. Nothing radical here. More long-term and perhaps more impactful, featured snippets are the results read aloud in response to a voice search. Voice search is projected to comprise more than half of all search queries in 2020! With mobile phones and digital assistants overtaking desktop searching, you'll need to make sure your pages are optimized for placement in a featured snippet.

In a forthcoming blog, I will go into greater depth about how to optimize your content to earn a featured snippet.  In the meantime, you can learn more about them on Google's official featured snippet page.
Answer Boxes/Instant Answers
For succinct, factual questions, Google will often answer the question for you and populate it at the top of the SERP. Google has a massive database called the Knowledge Graph which contains billions of public domain facts. Below you'll see an example of an Instant Answer pulled from the Knowledge Graph, which also plays a big role in voice search results. This type of feature isn't one of primary concern for most businesses.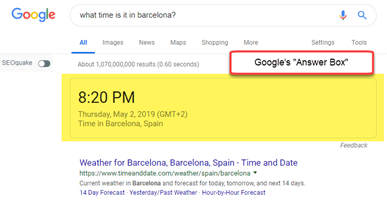 Knowledge Cards/Knowledge Panels
Local Cards
If you own one or multiple local businesses, make sure you are listed on Google My Business.The content in your Google My Business listing is what appears (most commonly) in a local card in search.  These local cards not only display your address and phone number but also your business photos, business hours, online reviews, and even questions & answers about your business. See an example below of a local card from a SERP: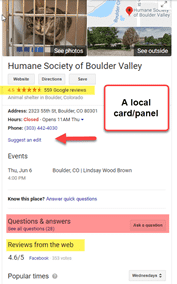 Read my recent blog on getting found online with a Google My Business Listing to learn more about local cards.
Branded/Personal Cards
Some examples of a branded Knowledge Card include a summary of a company with links to products, a brief summary of an historical event and a biography of a person.
Below is a company's knowledge card: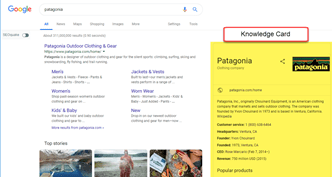 One of the best strategies to earning a Knowledge Card for your business is to make sure your website content is marked up with structured data.Unlike local cards which a company can populate themselves within Google My Business, branded & personal cards are something you can't edit directly. Learn more about how to enhance your website with schema markup.
Rich Product Snippet
Rich product snippets are incredibly important if you are selling products directly on your website. This Google feature again involves using structured data/schema markup to enhance your products and make it easier for all search engines to understand and display your product details. Some of the markup to take advantage of is:
Limited time offers
Product availability
Review and ratings
Below is an example of a rich snippet: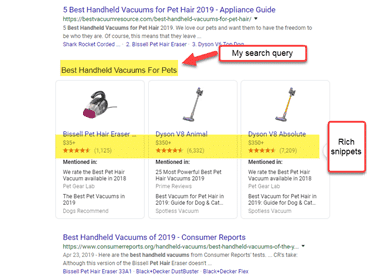 Most large e-commerce platforms and CMss should create this type of code by default but make sure to reach out to your developers and double-check, if you are not sure. Learn more about product schema markup on the official schema.org website.
People Also Ask (PAAs)
One of my favorite SERP features is the People Also Ask (PAA) box. These are great to mine when you're doing keyword research or competitive research and they can help you gain insight into other ways your audience may be asking questions.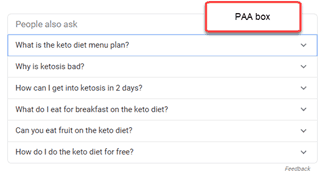 As the Greek philosopher, Heraclitus reminded us, "the only thing that is constant is change." One of the reasons I like the practice of search engine optimization (SEO) so much is because of the dynamic nature of the work.  At 3 Aspens Media, we pride ourselves in keeping up with the changing search industry.

Please feel free to reach out to us for help with optimizing your website.