Claim your free Google Business Profile, formerly referred to as a Google My Business, and increase visibility in Google Maps and search results.

It's quick, easy, and essential for driving customer engagement.
Table of Contents
Definition of Google Business Profile
A Google Business Profile lists critical information about your business such as your address, phone number and hours. It also displays clickable buttons which can link to your website, directions to your location and a call button.
Beyond those basics, you can use your GBP to display photos and reviews and even showcase your products and services.
How Do I Add a Business Location to Google Maps?
First, start by searching for your business on Google Maps. If you are already on Google Maps, you can click on the "Own this business?" link. See screenshot below for example: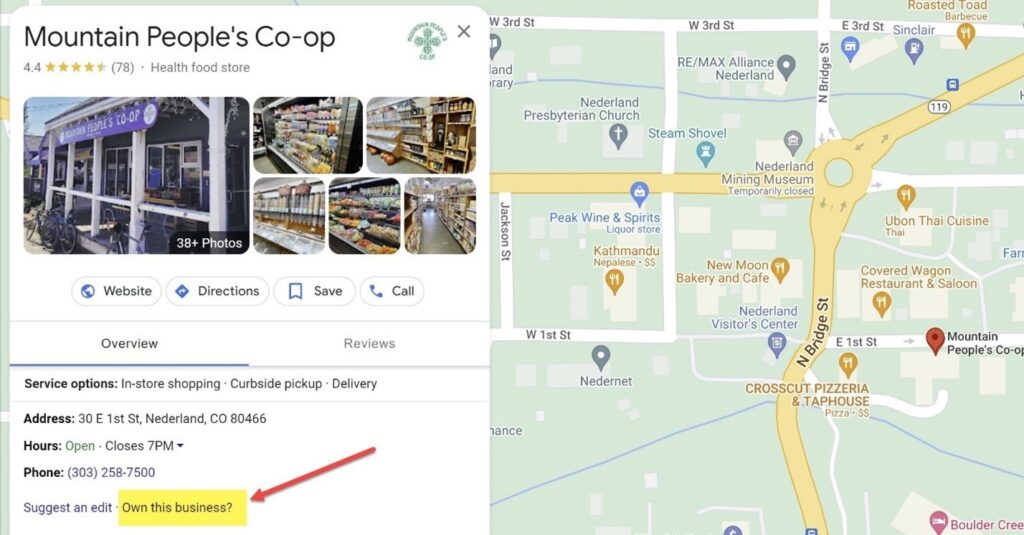 If you're not already listed on Google Maps, read about how to set up a Business Profile on Google.
Is Google Business Profile the Same as Google Places for Business?
Google Business replaced Google Places for Business. Google Business powers Google Maps and the Google local search pack – the section that appears at the top of local search results and highlights the top-ranking local listings for the search location.
We've all seen Google Business Profiles without knowing their formal name. Here's an example on a desktop: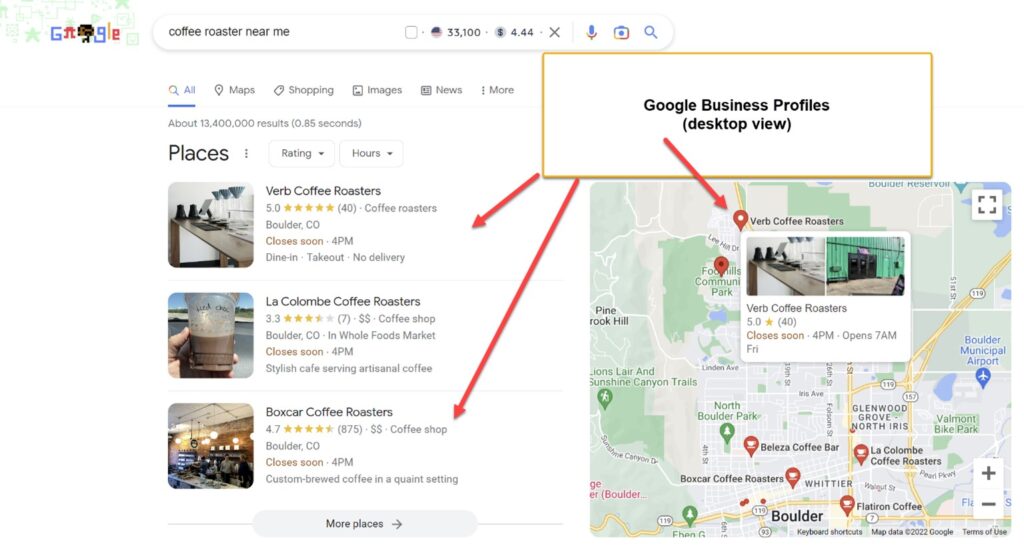 Here is a shot of how that same search result looks on a mobile phone: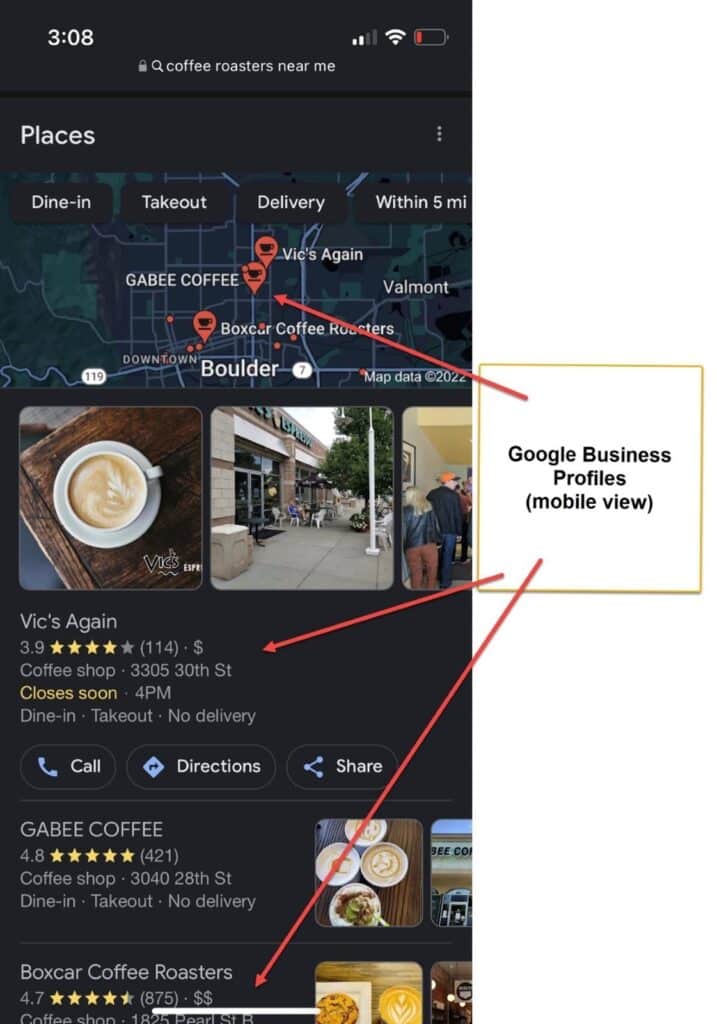 Benefits of Google Business Profile
When you look at the search results in both the mobile phone and laptop examples above, you see how the business profiles pulled from Google Business Profile appear higher up on the page than blue links to the businesses' websites themselves. Increased visibility is one of the critical benefits of creating and optimizing your Google Business Profile. Google's search results page with the 10 blue links has changed dramatically in recent years.
Other benefits of a Google Business Profile include:
Increased credibility – having a verified GBP with accurate and up-to-date information signals trustworthiness.
Improved Local SEO – a GBP can appear in local search results.
The ability to review and respond to customer reviews.
Who's Eligible to Create a Google Business Profile?
Any business with a physical storefront is eligible to create a Google Business Profile. What if you don't
have a storefront? Per Google's guidelines, "…you can have a profile if your business doesn't have a physical address as long as you make in-person contact with customers."
You can also have a profile if you're a hybrid business that serves customers at your business address and visits or delivers directly to customers.
You may also have a profile if you're a service-area business that "visits or delivers to customers directly, but doesn't serve customers at its business address," like a plumber or cleaning service.
How to Set Up a Business Profile on Google
Make Sure You Have a Master Document with Account Login Information
Before you start Googling your business name and filling out your profile, it is critical to make sure you have access to shared documentation for your GBP account credentials. I highly recommend someone at your company uses a business Gmail account to claim ownership of the business. It's best if the person – who will serve as the primary owner of the account – is someone you know will be at the company for some time rather than a marketing intern.
If you work with a marketing agency, do not have the agency claim the business listing for you with their Google accounts. Designate any external teams you work with account admins but maintain primary ownership. This step will save you a lot of headaches down the road when staff members change or if you change agencies.
How to Claim Your Google Business Profile Listing
If you haven't already claimed and edited your Google Business Profile listing, search for your business on Google. You will likely see a panel on the right side of your screen if you are on a desktop. It will look something like this: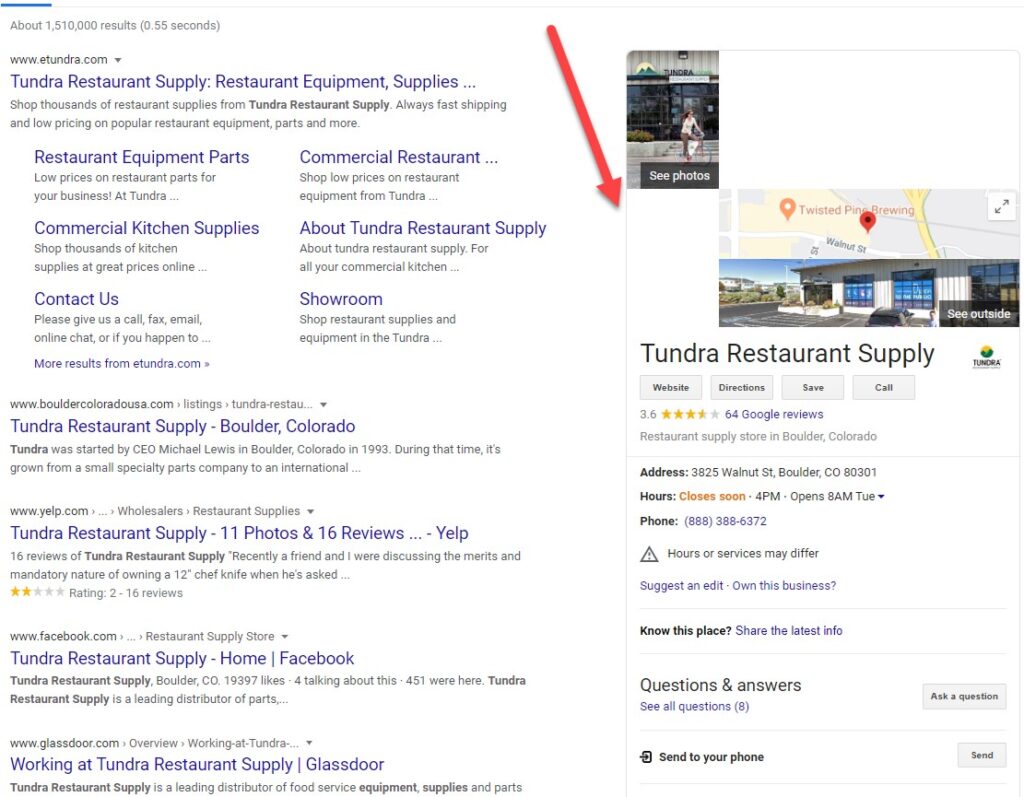 If you look closely at the panel listing, you will see a link to "Own this business?" Once you click there, you can verify/claim your GBP listing. Alternatively, if you're unsure if your business has already claimed your GBP listing, visit the Google Business Profile main site to check the ownership status.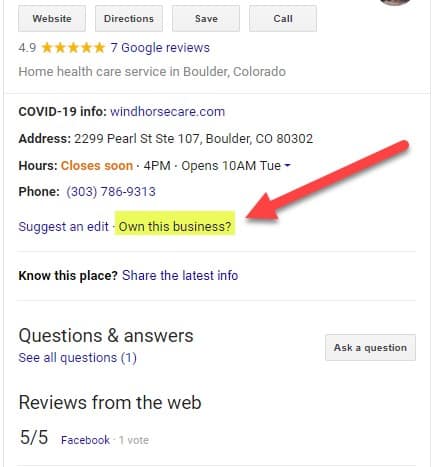 Populate Your Google Business Profile
Set aside some time to fully populate your profile. Make sure you use a standardized vocabulary for your company name, phone numbers, address, etc., so it appears the same across all your different profiles. Double-check that your listed hours are correct and if they change seasonally, make sure to set a calendar reminder to update those. Take the time to fill out the description field and use keywords your customers would use. Use your brand voice. Don't stuff your profile with keywords or include links but do write compelling copy that describes why your business is the one a searcher should visit.
If you're just beginning to create a profile, GBP will ask you for your primary profile elements (address, business hours, phone number, primary business category, service area and website address.) Take the additional time to enhance your listings with photos and a brief description of your business. You can make all those edits and additions from the Info section in your profile.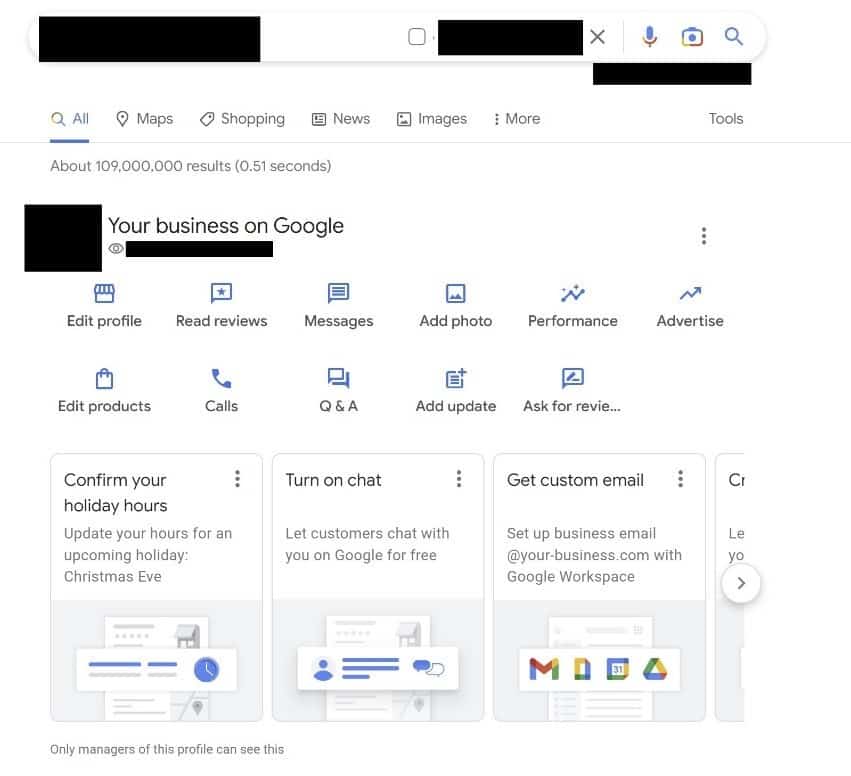 Do you have duplicate Google Business Profile listings? Learn how to resolve this issue >>
How to Set Your Locations and Service Areas
Does your business have multiple locations? You can create location groups and add multiple locations to your GBP profile. Learn more about that on the official Google page.
Local vs. Service Areas
Google allows you to include up to 20 service areas in a Google Business Profile listing. Do you sell from your location but also deliver directly to customers? Even if you don't directly see customers from your primary location but you do deliver, you can include all your service areas in your GBP listing. You can set your service area based on a combination of cities, counties, zip codes or other areas that you serve.
How to Add Company Pictures and Videos to your Google Business Profile
Google allows you to upload images and videos to your GBP profile. Make sure you have a great batch of pictures ready to upload when you are creating or first optimizing your listing. Take clear outside shots of your business so a visitor will have instant recognition while driving. Include images of your staff gatherings to tell the story of your team. Be creative and share your story visually.
Image specifications for Google Business Profile:
Size: Between 10 KB and 5 MB
Recommended resolution: 720 px tall, 720 px wide
Minimum resolution: 250 px tall, 250 px wide
View all details on image specifications >>
Video specifications for Google Business Profile:
Duration: Up to 30 seconds long
File size: Up to 75 MB
Resolution: 720p or higher
Add Content to the Questions and Answers
The questions and answers section of your Google Business Profile listing is an incredibly important one for you to monitor. Of course, you want to answer any questions a potential customer has. And if you do not, someone else might. As of the publication of this post, anyone can answer a question about your business! Can you opt-out of the Questions and Answers section? No, you cannot. So, be proactive and ask and answer some of your frequently asked questions yourself.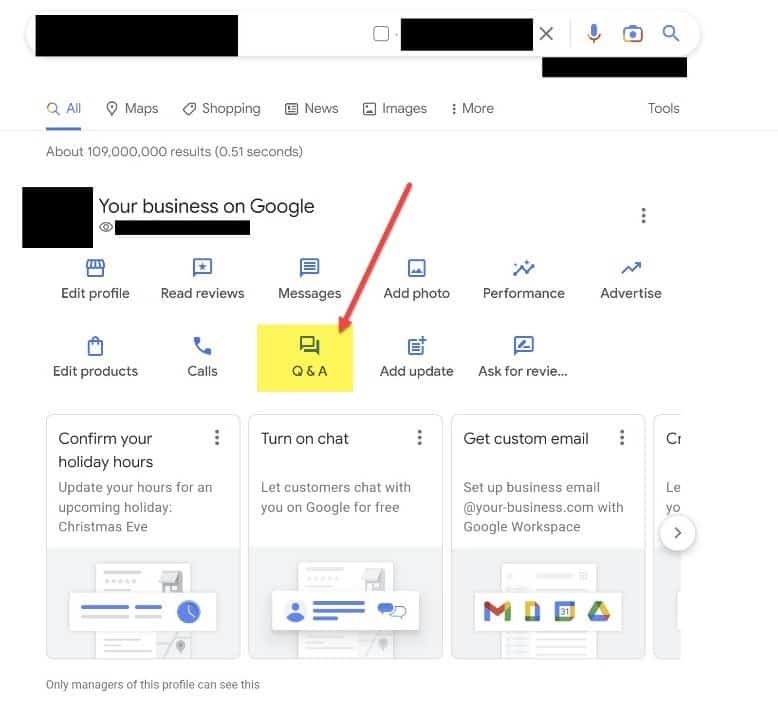 Set Up Email Notifications
Make sure you monitor your account by setting up email alerts so that you are automatically sent a message anytime a question is asked. Likewise, make sure you get an immediate email notification when someone writes a review of your business so you can respond in a timely way to your customer's feedback. Go to your Google Business Profile settings to set up notifications.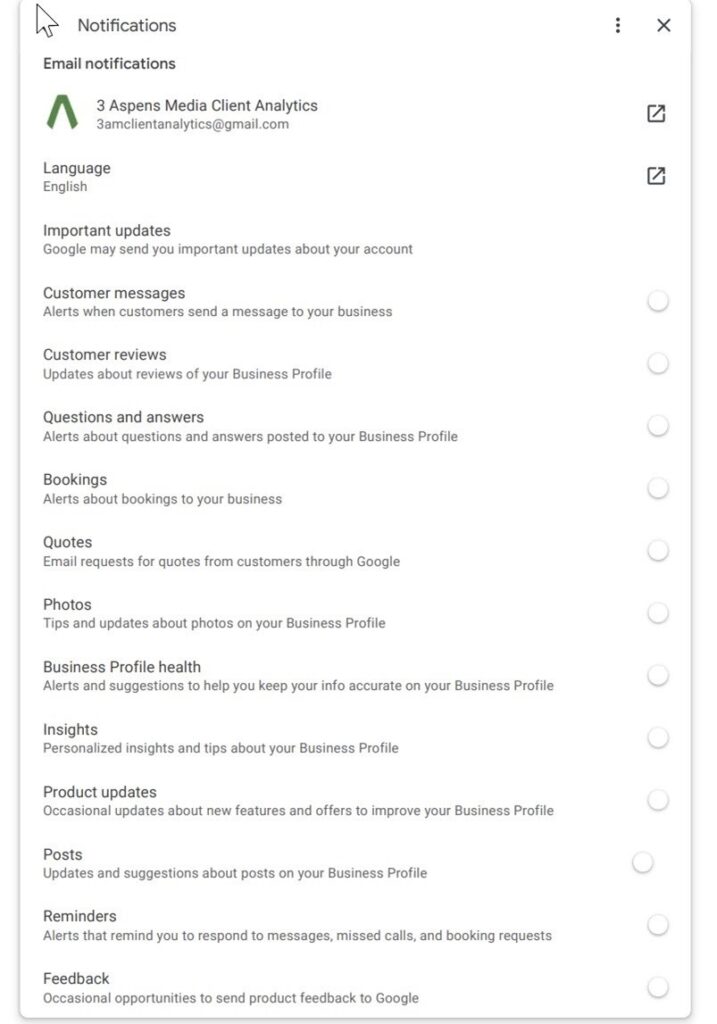 How to Optimize Your Google Business Profile Listing
Reviews


Reply to Reviews
Reviews are a crucial factor in determining whether we will trust and try out a new business. Multiple platforms and websites are dedicated to eliciting customers reviews and publishing them online. Google is one of the primary players in the review market and Google Business Profile is where you need to be to read and reply to reviews of your business online.
Google has created a set of recommendations for replying to reviews. You can flag a review to Google that you deem inappropriate and they may or may not remove it.
Timeliness is key in responding to reviews. You can set up an email alert to be triggered whenever someone submits a review via your GBP listing.
How to Get More Reviews on Google Business
There a lot of creative ways to get more Google Business Profile reviews. First, find the link to use in your review requests by going to your Google Business listing and clicking on, "Ask for reviews," as seen in the example below. Click there to get a direct link you can share with your customers via the following methods: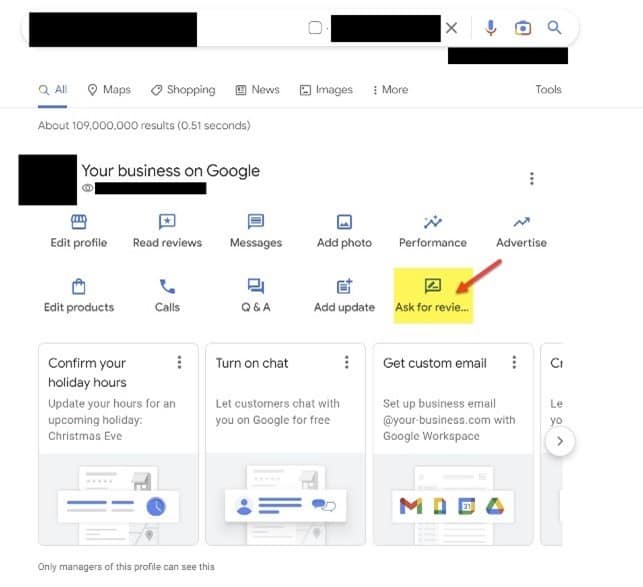 Add a link or callout to your e-commerce thank you email requesting a review
Include a request to your Google Business Profile review form in your regular email newsletters
Add a link to your Google Business Profile review form in the footer of your website
Add a link to your Google Business Profile review form in your email signature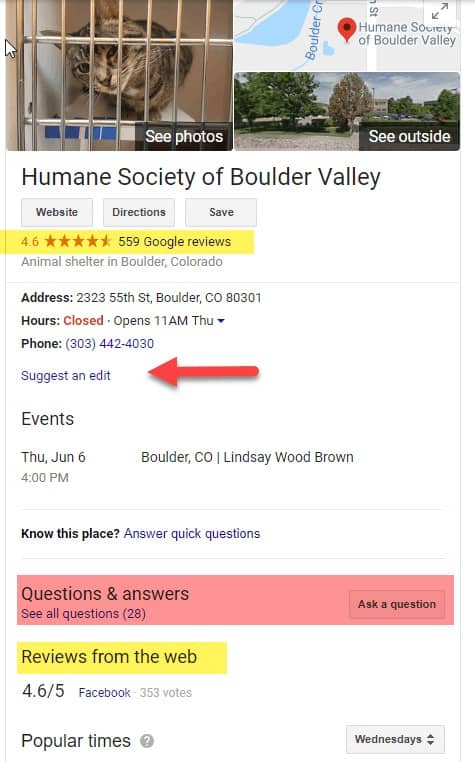 Add Products to your Google Business Profile Listing
You have likely noticed products appearing in a carousel of images at the top of a Google search results page and in Google Maps. Google allows "small- and medium-sized businesses" to showcase their products via the Product Editor and Catalog feature of GBP. You can create collections as well as individual products. This feature of GBP is changing rapidly, so keep up by following GBP's own Help section.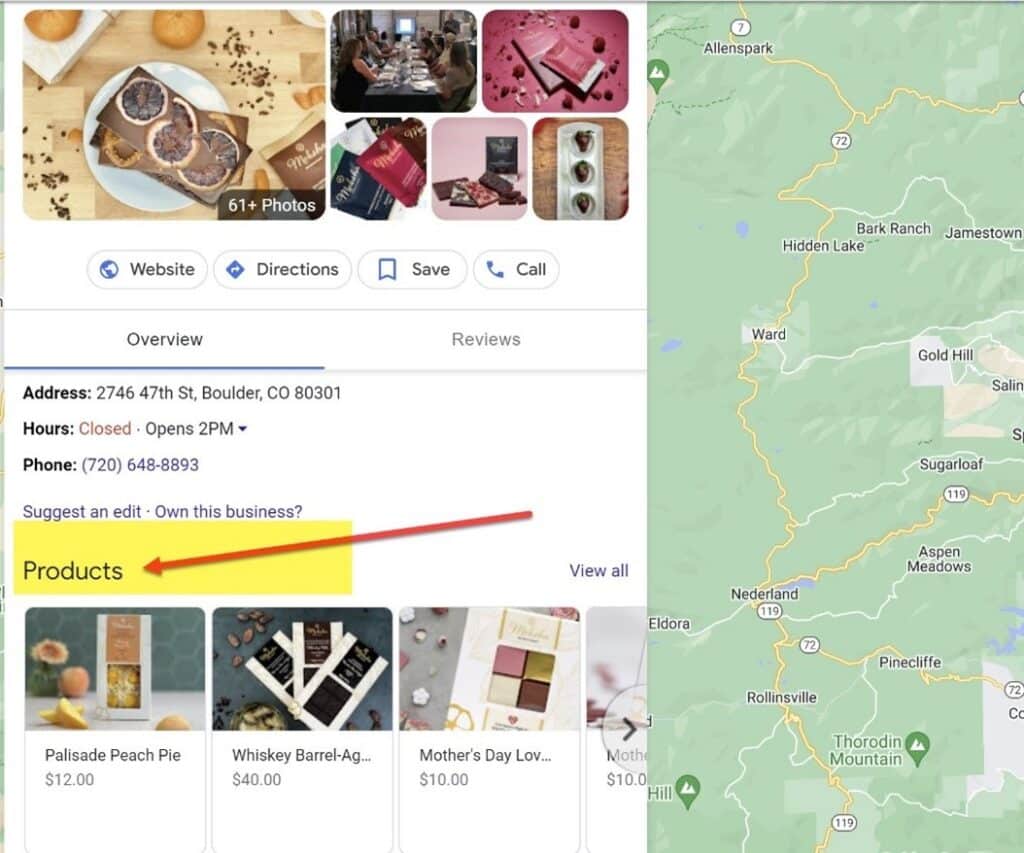 Enable Chat with Customers
People looking for your company on Google can directly chat with you if you enable messages on your Google Business Profile. It's recommended you have email notifications set up so that you can notified immediately when a question comes in. Google has guidelines for both businesses and customers for using Business Profile messaging. Make sure to read those.
Use the Bookings Feature
If you operate a business that uses an online booking platform, you may benefit from integrating that platform with GBP's bookings tool. With our increasingly speedy world, people want to take action right from the spot on the web where they find info about your business. Currently, more than 60 booking partners, including major players such as EventBrite and Ticketmaster, are integrated with GBP. Read more about how to integrate your booking tool with GBP.
How to Post on Google Business Profile
One of the most powerful tools within the Google Business Profile platform is Google Posts. This functionality was released in June 2017. You can use a Google Business Profile Post to promote your next event, to share updates about your latest sale or to cross-promote your most recent blog, just to name a few ideas. There is a seven-day lifespan on GBP posts except for a live event promotion, which will get automatically pulled once your event ends. Space in a GBP post is limited to just 300 words, so make sure you have a clear call-to-action and a catchy headline and include an eye-catching image to increase your click-through rate.
Where Do Google Posts Show Up?
The layout of Google's search results page (SERP) seems to change as frequently as the weather in San Francisco. As of the writing of this blog, Google Posts appear toward the bottom section of the Knowledge Panel, which often appears on the right side of a desktop view. This Google Knowledge Panel (also referred to at times as a Business Panel) takes up a considerable amount of real estate on a desktop, as you can see in the image below: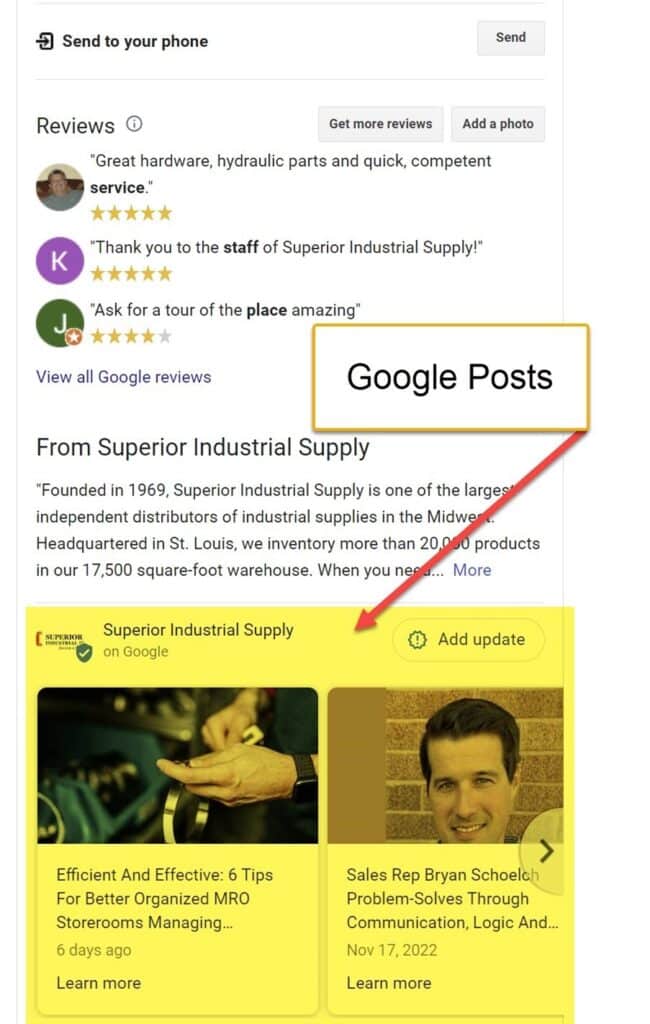 On a mobile device, Google Posts currently appear in their own tab labelled "Updates."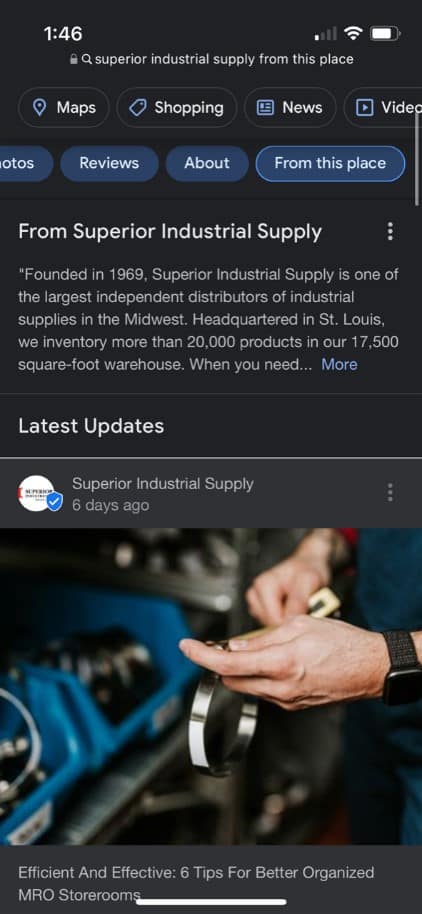 What Are the Different Types of Google Business Profile Posts I Can Create?
Depending on the type of business you identify with on the platform, you'll have several options for types of Google Posts to choose from including:
Events
Offers
Products
"What's New," a category that was previously referred to as "Announcements."
How Do I Create a Google Post?
It's quite simple to create a Google Post. Once you're logged into your account, on the profile navigation, click on the "Add update" icon. That will open the post creation function. The post copy can be as long as 1,500 characters but Google Business Profile recommends staying within the 150- to 300-character range. Remember to write a catchy headline. We shared some great ideas in our blog, 5 Tips for Writing Effective Headlines.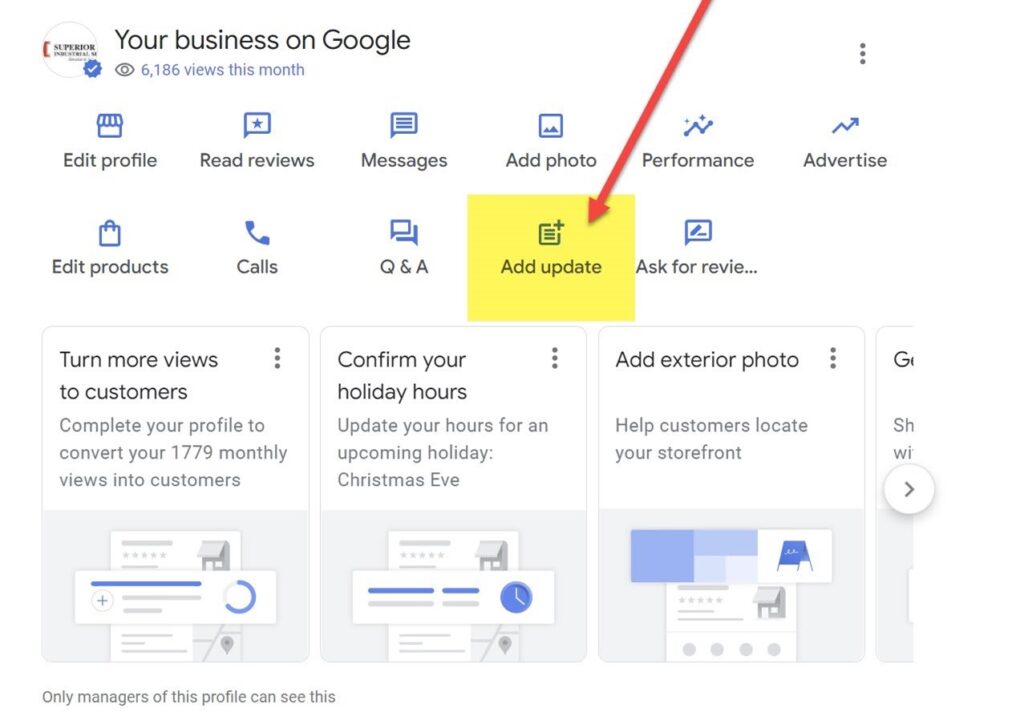 What Should I Post About?
You have lots of creative options for promoting your business with Google Posts.
Share a teaser to your most recent blog.
If you're attending an association conference, share your booth number and invite people to come visit you.
Does your company participate in a community service project like Meals on Wheels? Share a photo of your team getting ready to head out of the door and what inspires you to dedicate your time to others.
Maybe you're trying to fill open positions. Post a "We're Hiring" image and link to the job listing.
Running a sale this month? Share an image of the product(s) and link to your landing page or product page.
Do you have a new video testimonial? Share a link to the YouTube video (or other video channel).
You also have the option to add a call-to-action button on your post and you can select the following language to appear on that button:
Book
Order online
Buy
Learn more
Sign up
Call now
Currently, Google Business Profile allows businesses to create a new post each week so take advantage and post frequently. You can piggyback on your social media schedule and promote the same content or devise a unique plan for your GBP.
Can I Schedule Google Business Profile Posts?
Unfortunately, at the time of writing this blog, you cannot auto-schedule future Google Posts on Google Business Profile within the platform. However, there are a few third-party applications that do enable this. Some social media scheduling tools, like Hootsuite, have native integrations with GBP so you can post directly from within those tools to your profile. If you are on WordPress, there are several plugins that can automate publishing to GBP as well.
Google Business Profile Post Examples
As the adage goes, a picture is worth a thousand words. Here are a few recent examples of Google Posts from one of our clients.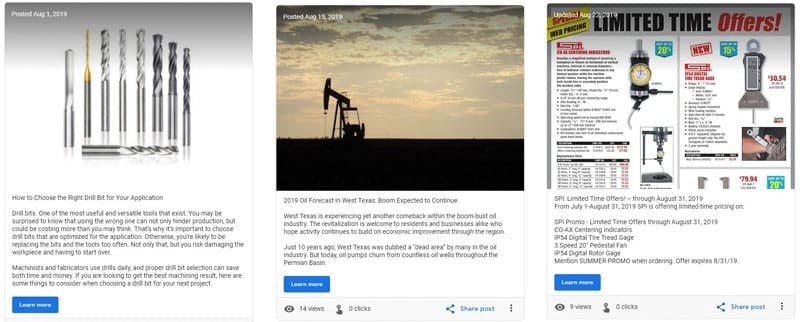 Monitor your Google Business Profile Performance
The performance section of Google Business Profile shows how people find your business online and provides analytics about your listing. There are some really interesting data here, so check it out.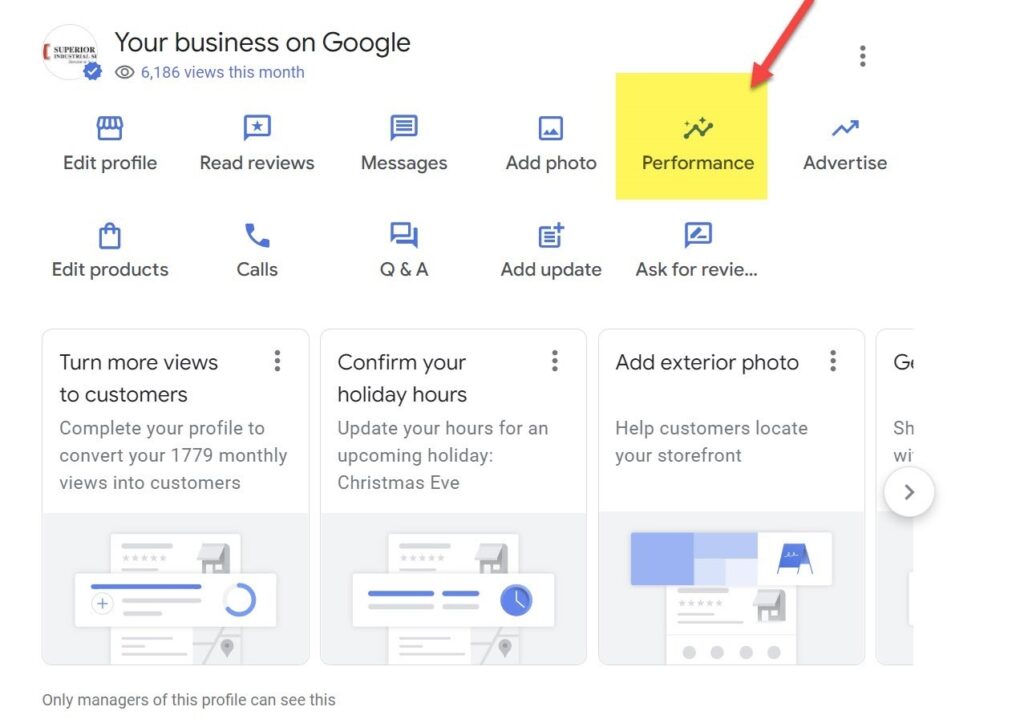 You can see exactly what queries people type into Google to arrive at your listing. You can also see whether your customers use regular Google search to arrive at your GBP listing or if they searched via Google Maps to find your GBP listing.
You can also drill down and see what actions people took on your GBP listing: a visit to your website, a request for directions and calls to your business. Once you see the calls and visits coming directly to your business via your GBP you will be more motivated to enhance your listing!
Note: To track activity on your Google Business Profile listing entry within your Google Analytics account, use UTM tracking. Read more about how to do this on this detailed blog.
Have questions about how you can make use of Google Business Profile for your business? Reach out to us at [email protected].