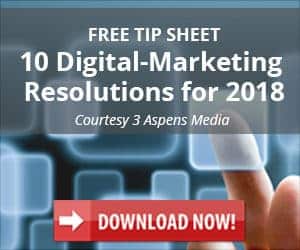 We've all heard that if you fail to plan, you plan to fail. When it comes to creating a digital marketing strategy that works, planning is everything. B2B companies looking to leverage digital marketing for increased ROI and visibility must create goals, plan and work strategically.
With so many opportunities available, where should you start? As content marketing professionals, we know the key to success is focusing our time and energy on the efforts that really matter. We've put together some suggested digital marketing resolutions that every business should adopt in 2018.
Bottom line: You don't have to do it all, but you do need to do a few things well if you want to be poised for growth this year.
Check out our free download, 10 Digital Marketing Resolutions for 2018.