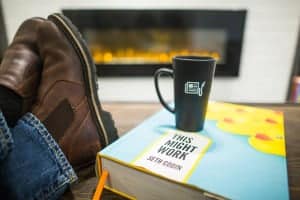 I loved Contently's recent interview with marketing legend Seth Godin.
A few highlights for me, which all point to the idea that content can help brands build trust. And it's not something that's always easy to measure. His words are in quotes, and my comments follow:
"Being trusted is the single most urgent way to build a business." – And that doesn't necessarily happen when you're so focused on the numbers, you miss the forest for the trees. Content is a great way to build trust, if you're genuinely working to understand and connect with your audience.
"(Content that builds trust) is human, it's personal, it's relevant, it isn't greedy, and it doesn't trick people." – Enough said.
"We have to redefine what business we're in." – Godin points to Gillette. Why doesn't the company create "the most important online magazine for men," more important or read than GQ? Good question!
"If you want to find a way out of where you are stuck, you may have to do something that's uncomfortable, that's organizationally difficult, and worst of all, that is frightening." – Break out of the mold. Try something different. Go back to basics and look at how you can build resources that speak to your customers' needs.
"There are two kinds of native content: There's content I want to read and content I don't." – Content should be driven by the needs of the reader. If you're placing native advertising in a publication, for example, make sure it's content the audience actually cares about.
Read the entire interview here.
---
3 Aspens Media helps businesses plan and develop content that is aligned with their business goals. Give us a call today or shoot us an email.