Outsourcing. No matter what you need it for, it's not easy to press "start." The whole process stirs up questions:
Will the content provider deliver on time, or will you have to pester them to get deliverables in?
Will you spend an exorbitant amount of time on rewrites due to knowledge gaps?
How much handholding will you have to do beyond what's reasonable?
Will you get what you pay for, or will it feel like a money pit?
If you've been burned by outsourcing before, these questions are charged with greater anxiety. It can feel like relinquishing a great deal of control with very little certainty.
Outsourcing is often essential to healthy operations and can be a catalyst for major growth and success. Outsourced professionals bring invaluable knowledge and experience specific to their function and the industries they serve. For instance, companies often outsource accounting and IT services due to the value and relevant expertise they'll gain from focused industry professionals.
Content writing and marketing are commonly outsourced functions. Even large companies with in-house marketing teams and writers outsource to achieve their content production goals.
The Content Marketing Institute found that 50% of B2B companies surveyed outsource at least one content marketing activity. For large companies, that number jumps to 75%.
As with any outsourcing project, starting the process can feel like you're filling out a Mad Libs. Since this is our passion at 3 Aspens Media – and our lifeblood – we want to walk you through its nuances so you can be more confident filling in the blanks.
Why B2B Businesses' Marketing Teams Outsource Content Today
The B2B space has seen both positive and negative disruption these past several years.
B2B buyer behaviors and expectations are changing
Skilled labor shortages persist across industries
Digital transformation has accelerated at a rapid pace
Smaller companies have more access to advanced technologies
The imperative to improve efficiency in processes and operations is a throughline for all
These drivers have been transformative, changing how businesses interact with customers and even flipping entire business models.
They've also influenced B2B companies' interests in having or improving their content. In fact, The Content Marketing Institute likened this emerging interest in content marketing to "waking a sleeping giant."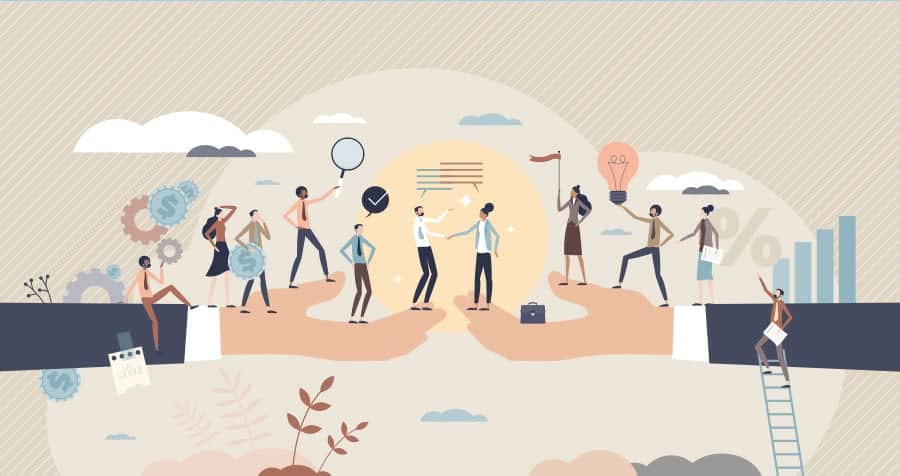 B2B buyers are doing more independent research, mainly through digital channels. They want access to more meaningful content and tools to help them along their buying journey – and beyond.
This demand for content is outpacing companies' capacity and budget to produce in-house. Semrush research found that 52% of companies that outsource do so to increase content production, 37% because they don't have enough writers and 37% because of the costs associated with hiring internally.
The Ins and Outs of Outsourcing Content in B2B
Outsourcing marketing content helps B2B companies meet increased demand for content so they can stay relevant to their customers and get ahead of the game. The options available to you are broad and flexible, so you can identify the right combination of content and services for your business whether you only need support on a project basis or a fully supported content strategy.
Who provides outsourced content services?
B2B companies have several options for outsourcing content services. The right option for your business will depend on your needs, budget and expectations.
Content Firm or Agency: A content agency focuses specifically on strategizing for and producing high-quality content to fuel business initiatives such as marketing, public relations, internal development and more.
Content Marketing Agency: A content marketing company specializes in content strategy, creation and associated marketing. Such a company can provide guidance and deliver on marketing initiatives for your business.
Full-Service Marketing Agency: A full-service marketing company is made up of a variety of creative departments, including content, design, web development and more.
Contractors and Freelancers: These are individual writers and professionals you can source for content writing and marketing, whether for one-off projects or extended engagements.
Not all content production companies and content providers offer the same services or levels of service. Some content companies have designers, SEO specialists, social media marketers and email marketers on staff, while others are solely made up of content producers, writers and editors. And a freelancer may not submit edited work, where a marketing content production firm is likely to have editors and an editing process. This means you'll get a more polished first draft, and you can expect final work to be cleaned up to editorial standards. You'll also benefit from having more than one set of eyes on each piece of content, gaining perspective from another objective view.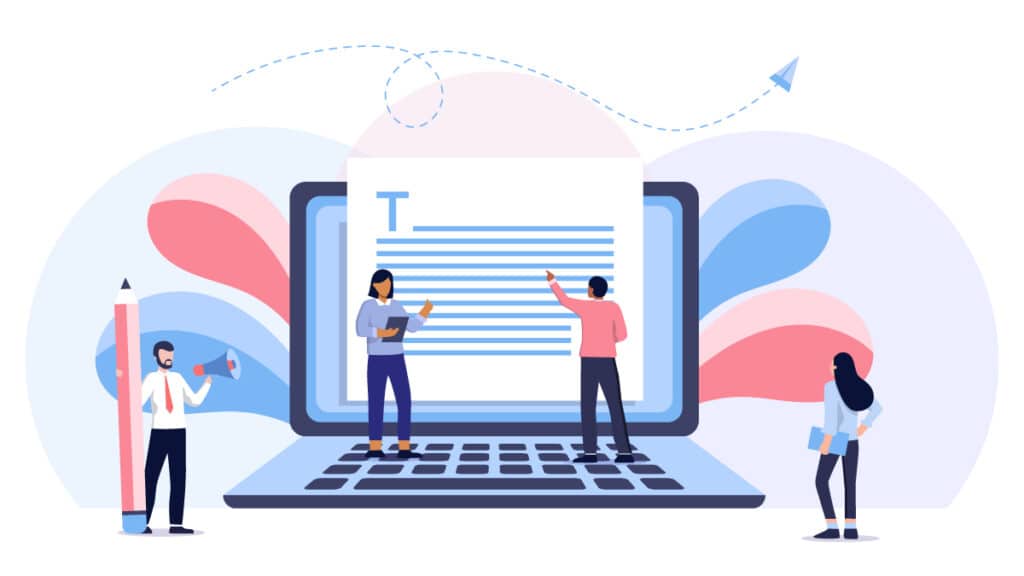 Marketing content production services include:
Researching specific topics and trends
Interviewing subject matter experts, team members, stakeholders, survey respondents, etc.
Performing audits, such as blog, website and SEO audits
Performing SEO research to enhance existing and future content
Developing a content marketing strategy
Planning and scheduling content production (i.e., creating a content calendar)
Concepting and outlining content, campaigns and tools
Writing and editing content for internal and/or external use
Editing, updating and repurposing existing content
Measuring content performance
What types of content can be outsourced?
The range of content you can outsource spans from an individual blog to ongoing, consistent content long-term. You can engage a company or individual for a single project, such as updating several articles in a package or putting together a whitepaper. Or you can engage them for long-term planning and execution.
Content types you might outsource include:
Blogs
Guest posts, such as for trade publications
Website copy
Product copy
Whitepapers
eBooks
Email content, including newsletters
Social media content
Advertising copy
Press releases
Brochures
Internal materials such as sales decks and flyers
Scripts for webinars, podcasts, etc.
Descriptions for webinars, podcasts, events, etc.
What are the benefits of outsourcing content to fuel content marketing?
Content professionals are well-versed in their trade. You can often expect more than just great writing and editing, but also:
Deep experience that informs best practices for structure, placement, perspective, tone and more. For example, readability is important to the customer experience and the Google algorithm. Content professionals understand how to optimize readability for both. Semrush research shows one of the top reasons companies outsource is to benefit from the input of external writers.
Improved consistency and timeliness in content production and output. A small marketing team has a lot to juggle, and producing regular content is hard to prioritize amid more immediate marketing initiatives. Outsourced content producers have practiced processes that help them realize consistency and timeliness for their clients.
Relief for internal staff where relevant to content production. Many small businesses have one point person for marketing initiatives, and even this one person tends to wear many hats. And large companies with content teams have bigger goals than they can meet in-house. Outsourcing content means they can execute plans they've had to shelve or take some of the writing and editing off their own plate.
Quality content informed by training, skill and experience. A small marketing team can be a powerhouse, but marketers can't be amazing at everything related to their trade. Content experts have developed skills related specifically to content, which often translates to higher quality work with fewer rounds of revisions.

However, it's critical to understand that the more your company participates in the content development process, the better your outcomes will be. Your participation directly correlates to quality and alignment. Content providers need resources to understand your needs, including time with your staff. Your employees are experts in your business, and a content provider is an expert in content production who can bring an objective perspective. Collaborating will result in the best, most effective and aligned content.

Industry insight informed by experience working with similar businesses and knowledge of current trends. When you work with a content production company or individual that knows your industry, you increase the odds your program produces quality content that resonates with your customers. It will be easier to onboard an agency with writers and editors who already have experience in your industry, and you're less likely to experience the frustration, time and cost of excessive rewriting by you and your team of content that doesn't hit the mark. Avoid the aggravation and be sure to outsource content to content producers with knowledge of your industry.
Questions to Ask a Content Marketing Agency
Different companies and individuals offer varying levels of service, experience and industry expertise. Some perform more general marketing across markets, where others are niche in terms of industry, service and style.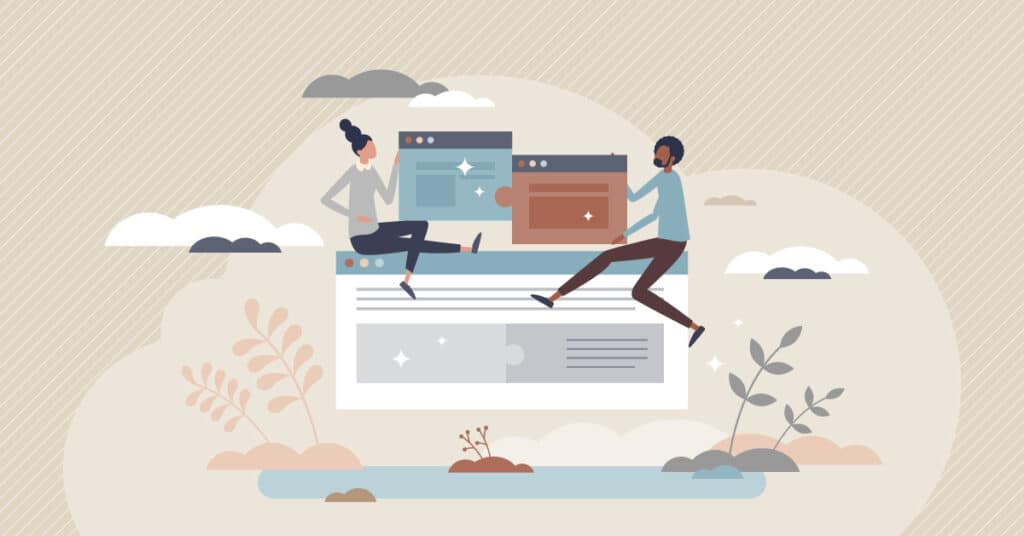 Semrush research shows experience, industry knowledge and portfolio collectively are among the top reasons companies choose a specific vendor (37%). But a desire for high-quality content is the most important reason (44%), and price the second most important (40%).
As you evaluate companies or individuals for outsourcing content, consider the following questions:
Do they have experience in your industry (industry knowledge is vital for most content initiatives)?
Can they provide references relevant to the specific projects you have?
Do they offer the level of service you need? For instance, if you need content strategy, management and production, you'll need broader services than writing and editing.
Are their engagement options more extensive than your need? For instance, a full-service marketing company may not offer content-only engagements.
Can they conduct specific activities you might need, such as deep research, interviews, design, etc.?
Will their company culture and manner of engaging mesh well with yours? They will hopefully serve as an extension of your organization so it's important you like who you are working with.
Do they communicate regularly, clearly and in a manner you prefer?
Engage a prospective content marketing partner in a test project to ensure you're a good fit. A test project allows you both to experience the working relationship, vet deliverables and determine if a longer-term engagement makes sense.
Tips for Choosing a Marketing Content Partner
Each company or professional has its processes for onboarding your business, facilitating the relationship and executing deliverables. You want to ensure these processes and their culture aligns with yours for a smooth and beneficial relationship.
Look for your niches
If you need a specific type of content, you'll get the best results if you outsource to a company with experience producing it. For instance, if you need product content, identifying professionals with experience producing product copy in your industry or a similar one will help you achieve optimal outcomes with fewer edits and heavy-handed participation in creation.
As another example, if you need thought leadership content, outsourcing to a company with experience and demonstrated expertise in this area is key. Their team should have excellent interviewing skills and the ability to extrapolate and share insights effectively in all your channels.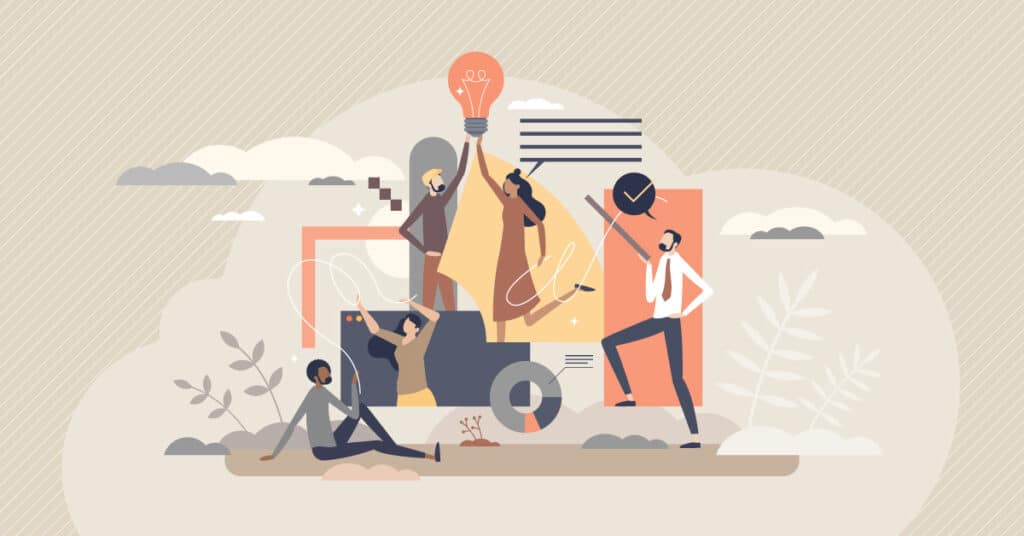 Put quality before quantity
More is not necessarily better. What's important is creating robust content that provides actual value to the reader and encourages them to lean into your business, think of you when they have a need and rely on your expertise. All of this will help pull them into the funnel if it's high-quality and isn't salesy. Quality content is about your audience.
As long as your content is useful, you don't need hundreds of pages of content. You can work to keep quality content active, updated and rotated into your marketing strategy to continue getting useful life out of it. Don't be afraid of repetition in pushing out content to your audience.
Have a plan – and be open to adjustments
It's just as important to be prepared for your work with a content firm as it is to be prepared to change your approach and expectations. Content professionals will have industry insights and experience to inform their suggestions and help you amplify your outcomes.
To prepare:
Assess your goals and what you might need to accomplish them.
Assign a point person or people for interacting with the outsourced company.
Determine how you prefer to communicate and how frequently.
Determine which collaboration tools you prefer and be prepared to use others suggested by the content marketing agency.
Prepare to give a thorough elevator pitch to help them understand your business and goals. This includes assembling a packet of resources you've produced internally and externally, from sales decks to mission statements and previous content, as well as examples of content you like and want to produce.
Once You've Started, Don't Set It and Forget It
If you work closely with the content professionals you hire, your content will be authentic and align with your company, expectations and goals. So, once you start your engagement, don't set it and forget it. Encourage your team to engage with this company – now and as the relationship matures. As your company evolves, so will your content production program. Successful content production programs start with a comprehensive download of your company voice, dos and don'ts and more, and continue when the content provider is viewed as a true partner. As an extension of your team, give your content providers thorough, honest and detailed feedback about what content works and what doesn't. Content production is a collaborative effort, and writers expect you to have edits. Your feedback will help them align their deliverables to your hopes and expectations. Also, update them when company, sales and marketing goals evolve, so they can adjust the content strategy and plans.
3 Aspens Media is a marketing content production firm. Our writers have decades of experience working with B2B companies, including industrial distributors, manufacturers, software partners, consultants and more. Reach out to us at [email protected] to chat about your goals and see if we're the right partner to help you achieve them.