How do you optimize blog posts so they rank in search engines and bring visitors to your site? Blog post search engine optimization (SEO) should be included as a critical piece of the writing process if you want your blogs and site to perform. We've created a blog post SEO checklist to help you execute critical blog SEO tasks in a consistent and systematic way.

Why Worry about Blog SEO?
Content writers can spend a fair amount of time creating blogs and articles for a company's website. Yet shockingly, 90.63% of pages get no organic search traffic from Google, according to a 2020 organic traffic study from Ahrefs.
Perhaps the primary channels for distributing your content are email, social and/or referral websites and you're not focused on bringing visitors from search engines to your website. Stop reading here then! But if your business aims to increase traffic to your website from a search audience, SEO should play a major role in the writing process. This article outlines a checklist and optimization framework for blog post SEO.


Keyword Research and Blog Post Structure
Start with Keyword Research and Competitive Analysis
You and your team have spent hours researching, writing and editing content for your blog. Did you include keyword research and competitive research in your process? If not, make a habit of including these tasks in the early stage of your blog post writing process.
Why? You're writing content to build a relationship with your potential and existing clients, establish your company as a thought leader and expert in your industry and ultimately provide valuable answers to your audience's search queries. To get your blog posts to rank in Google and other search engines, you must write about topics your target audience is actually searching for. Investing time in keyword research is an essential part of identifying those blog topics your audience is searching for.
How Do I Find Keywords for My Blog Post?
There are a multitude of keyword research guides and courses to help you learn how to find target keywords for your blog posts. This guide from SEMRush, a keyword research tool, is one of our favorites.
It's best to begin the keyword research phase by discovering your website's ability to rank well in Google, also known as its domain authority. How do you do this? Various reputable SEO software companies like SEMRush, Moz and Ahrefs have created a handful of metrics you can use to gauge the authority of your domain. These authority scores are on a scale from 0-100 and you can use them to decide which keyword phrases to compete for. For example, if your website's authority score is far lower than your SEO competitors, you may need to choose longer-tail keyword phrases that are less difficult to rank for.


How to Find Your Competitors' Keywords?
SEO competitor analysis entails researching who's ranking for the keyphrases you want to rank for – which might not be the same as your traditional list of competitors.
Once you've established a short list of keyphrases you would like your blog post to rank for, find out which websites currently rank on page one of Google for those terms. Google has decided those pages best match the user's search intent.
Is the content you plan to write topically similar to those already ranking? If not, you may want to rethink your target keyphrases. If the content of the current high-ranking sites is like your blog content, then make sure your blog post is more comprehensive and follows the checklist of blog optimization tips to follow.
Take note of the featured snippets and ads, as well. Those sites are competing for your target keywords (or closely related terms). You can do this using Google and a spreadsheet or using a digital marketing toolkit like SEMRush or Moz, just to name a couple. To learn more about SEO competitive research, Moz has this great resource.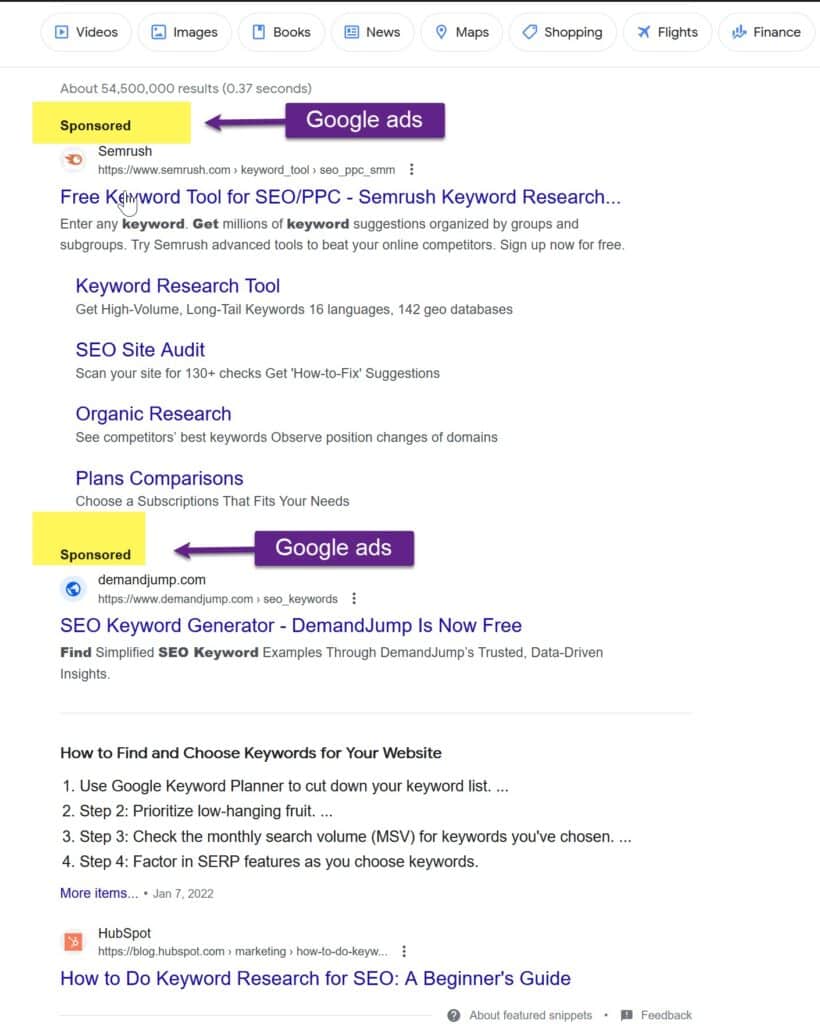 Structure Your Blog Post for SEO
Header tags are style tags that define the structure of how your blog is rendered on a page. Best practices for both SEO and readability recommend the H1 tag be either identical or topically similar to the title tag. The H2 tags can be thought of as sections of the blog post, and it's best practice to include the blog's secondary sub-topics as H2s.
What does this have to do with SEO? Dwell time/time on page is a ranking factor. The better you style your blog post for easy readability (and scannability), the more likely someone is to stay on your page and engage with your content. The two go hand and hand.
Read our related article to learn how to make a blog seo friendly >>
Caveat: Just placing your target keyword phrase(s) is these locations is not the end-all be-all of blog post SEO. It is a critical part of over-all optimization strategy, but there are many other considerations. Continue reading for more tips!


Add Your Target Keyword Phrases in Critical Places
Once you have homed in on the keyphrases you want your blog post to rank for, strategically place those primary and secondary keyphrases in the following places.
1. Title Tag: How to title blog posts for SEO
The title tag is the primary description of your blog post. It appears as the link on your entry on a search engine results page (SERP). See the screenshot below for an example. For most content management systems, the title of your blog post will be the same as your meta tag/title tag. Check to make sure or be aware that you can have a slightly different title tag than the title of your blog post.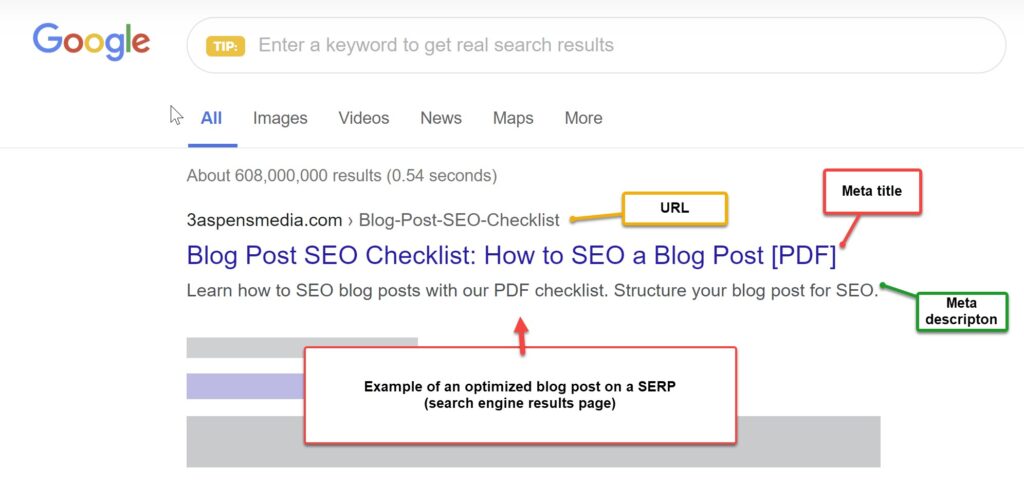 2. Meta Description
This is the short description that comes under your blog post's title tag. It's your primary opportunity to attract a searcher's attention. Include your secondary keyword phrases and try to make it actionable
3. Page URL
Ideally, a shorter URL is better for readability and sharing. Your target keywords should determine your URL.
4. Introductory Paragraph
Just like we want to place our target keyword phrases at the forefront of our page's meta title, meta description and page URL, we should make sure our target keyword phrases (including related terms) appear in our post's introduction paragraph.
5. Headers (H Tags)
As mentioned earlier in this post, your H tags play a role in how you structure your blog post. They should be informed by your keyword research. Your primary and secondary keyword phrases will be used in your title and meta description tags and URL. However, the related subtopics you found during your keyword research will form the body of your post. Of course, not every single paragraph or section header of your blog post needs to be dictated by keyword research but a good proportion of the blog headers should be influenced by those keyphrases.
6. Media (images, videos or audio)
You might be wondering why adding an image or video clip to your blog post would improve search ranking. There may not be a ranking factor for including images, but images, video and audio will likely keep your readers' engagement and thus increase time spent on the page. Google takes that metric into consideration, so don't be afraid to pepper your post with images, charts, embedded video or audio.
Write alt tags for your images and optimize your images' file names.
For each image you include in your blog post, make sure to describe that image in the alt text. This ensures that visitors to the post who have reading impairments can understand the meaning of those images as expressed through a screen reader, which the American Foundation for the Blind defines as "a software program that allows blind or visually impaired users to read the text that is displayed on the computer screen with a speech synthesizer or braille display."
Adding keyword-rich alt tags and including your target keywords in your file name helps with SEO because, like screen readers, web crawlers (spiders) scan the entirety of a page's content.  Those alt tags and file names provide meaning to those entities. You can go even further to optimize your images (and other media) by using schema markup. Read more about Google's Image Best Practices on this Google Search Console post.


7. Internal Links: Links to related pages on your website
Where relevant within your post, include links to other content on your website. By linking to other internal pages, you are not only helping readers go deeper into your subject expertise, but you are passing page authority from one page to the next.
When you add internal links, make sure to optimize them by including the keyword phrases of the page the link points to.
We hope these tips can serve as your primary checklist for optimizing blog posts for SEO. Please reach out to us at [email protected] with your questions or for support in increasing traffic to your blog.