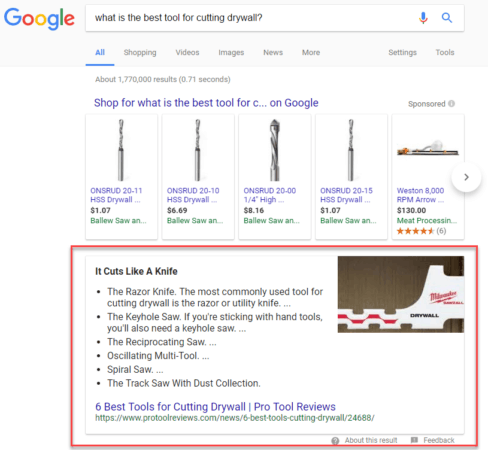 Have you heard of Google's featured snippets? Featured snippets, which are extracted from webpages, often appear at the top of Google's search-engine results page – just below sponsored results – in response to searchers' questions. The snippets are enclosed in a box that includes a summary of the answer that Google's algorithm has extracted from a webpage as well as a link to that webpage (see the example at right).
According to Google's Search Console blog, featured snippets are "enhanced to draw user attention on the results page." Their prominent placement draws searchers' attention, and because of this, it should draw the attention of savvy marketers, as well.
While you can't simply tag or otherwise code your content for automatic use in featured snippets, there are things you can do when you create your content that will increase its chances of being picked up by Google's algorithm. The first and most critical thing to do is to find out which questions your potential customers are asking; there are plenty of ways to do this.
Compile (if you haven't already) frequently-asked questions from existing and potential customers by having your employees document these questions at all possible touch points.
Identify keywords that are relevant to your business by using tools like Wordtracker, SEM Rush and Google Keyword Planner, and write content around them using question-inspired phrasing (think "how to," "why" and "what").
Find common questions by paying attention to Google's auto-complete feature and "people also ask" suggestions box as illustrated in the images below. And don't forget to talk to your customers directly (see Why You Need to Talk to Your Customers).


As a marketer, you should always be thinking about the questions your potential customers might be asking so that you can craft relevant, helpful content that will position your brand as a thought leader in your subject area. If you do this well, the keywords you need to organically obtain a top Google ranking over time will naturally appear in your content.
Keeping the question/answer format in mind as you do so, though, may help you get there even more quickly.
Did you find this information helpful? Your friends and colleagues probably will, too. Share it with them via LinkedIn, Twitter and more via the "Share" icon below.