When you think "content," what comes to mind? Just website copy and blogs? Or do you also think of technical sheets, customer testimonials and TikTok videos?
In B2B, the list of content types goes on and on. How do you know which to create? You don't want to waste time on content no one needs.
It turns out there's a bit of science to it. But don't let that scare you off. If you choose content types carefully, your B2B content marketing strategy will be more effective — and it will actually support customers on their buying journey.
To get the science down, you must:
Understand the role of content in the B2B customer journey.

Understand the why and how of different content types.

Align content types to customer journey stages and your goals.
Let the B2B Buyer Journey be Your Guide
Each content type serves a different purpose depending on where the customer is on their buying journey.
A social media post won't convince a B2B buyer to purchase, especially if they just discovered you. But it could put you on their radar. At this point, they're still in the discovery stage of the marketing funnel (also known as the awareness or top-of-funnel stage).
When they're ready to plan for a purchase, they enter the consideration stage (also the middle-of-funnel stage). You want them to find everything they need on your website. They should be able to browse for information on comprehensive landing pages, whitepapers, case studies and how-to guides to better understand the nuts and bolts of your offering.
From there, buyers have further hoops to jump through before the converting stage (also the decision or bottom-of-funnel stage). Just look at Gartner's interpretation of the B2B buying journey: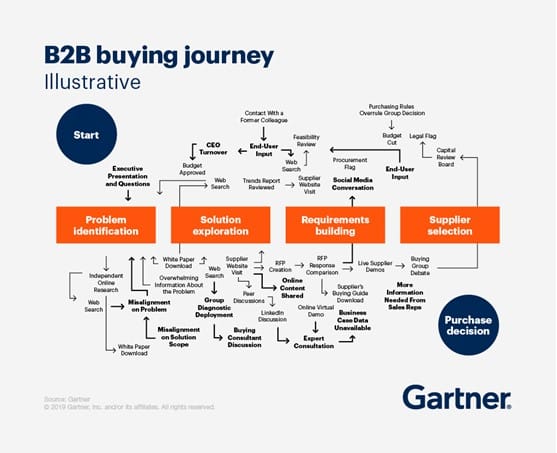 However, when they're ready to decide, be ready with more content to support them. Semrush data shows that the top-performing content types at this stage are product overviews, customer reviews and success stories.
And if you think they'll just pick up the phone at this stage, think again. DemandGen data shows:
62%

of B2B buyers engage with three to seven pieces of content before reaching out to a sales rep.

11%

engage with more than seven pieces of content.

55%

said they rely more on content for research and making purchasing decisions.
The funnel may end there, but existing customers in your sphere are constantly in the nurture stage (also the retention stage). Content for this stage should build loyalty by educating them, answering their questions and solving their problems.
B2B Content Types to Consider
We put together a list of content formats we regularly create, explaining their relation to the funnel and how to use them effectively. Use this marketing funnel as a compass, but keep in mind: The right content for your business depends on your unique audience and goals (not to mention, resource availability).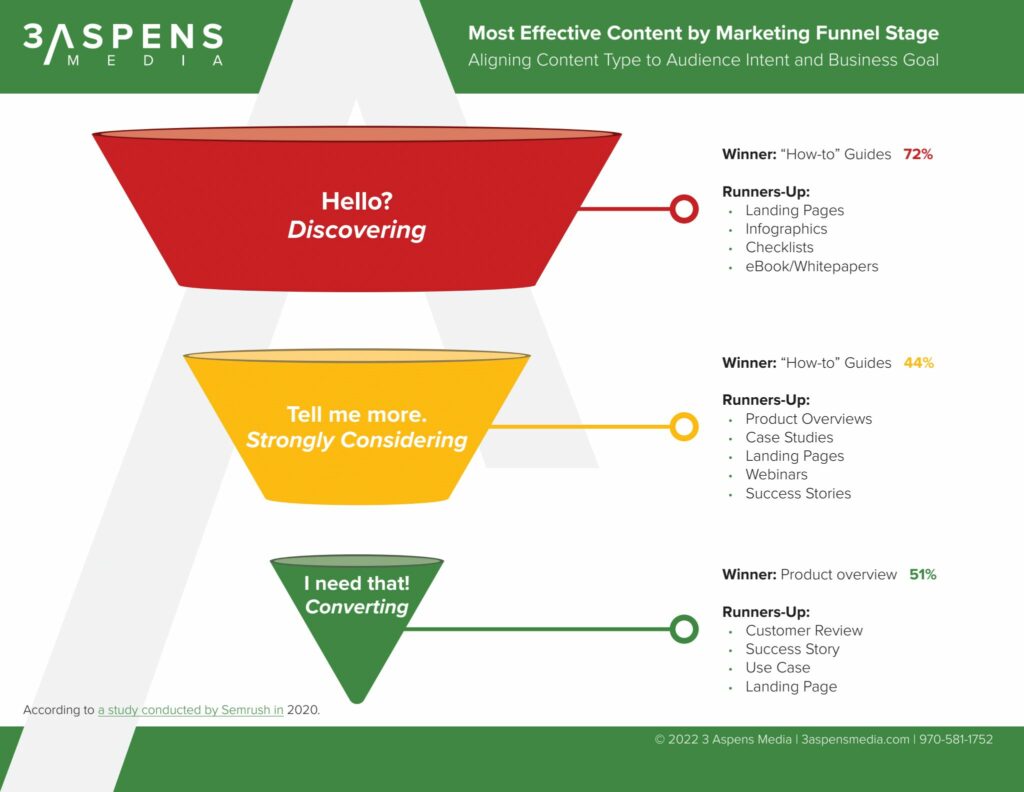 1. Blog Posts
Funnel Stages: Discovering, Considering, Nurturing
Blog posts are resources you publish on your company website. They provide value to prospects and customers by answering their questions, solving their problems and helping them improve their businesses or organizations. They're some of the most effective forms of content and engage audiences across the marketing funnel.
How can one content type do so much?
✔ You own them. They live on your site, building your credibility with customers and search engines. You can further enhance credibility with search engine optimization (SEO) techniques.
✔ They're versatile. Blogs can take varied forms, serving different purposes for the audience:
Educational pieces

"How-to" guides

*

Customer success stories*

Trends coverage

Profiles of employees, company partners, etc.

Q&As with industry thought leaders, employees and other subject matter experts
* "How-to" guides are top performers in the discovery and consideration stages, and success stories are in the top three for the converting stages. These are great blog types to start with.
Don't have a blog? Here's how to get started. >>
2. Website Content
Funnel Stages: All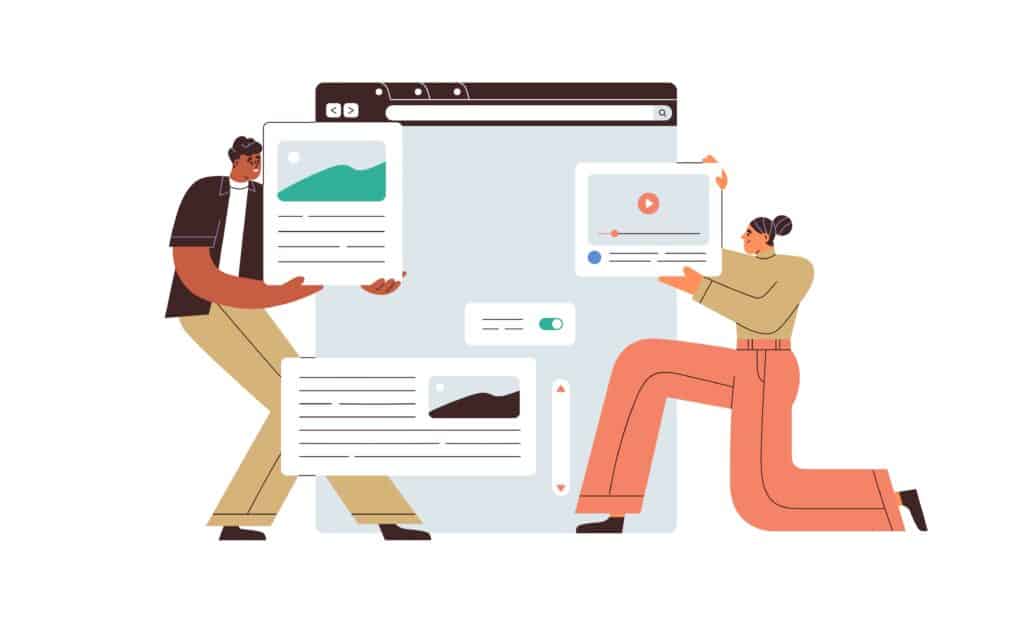 Website content is copy on your site's landing pages, such as your home, about, products and services pages. Different pages serve different stages of the buyer's journey. For example, have the following pages for each stage:
Discovering:

Comprehensive and engaging copy on general landing pages.

Considering:

Rich product pages and FAQs to provide context.

Converting:

Easy-to-find contact information for demos and purchasing.

Nurturing:

Troubleshooting and value-add resource pages.
Designing or redesigning a website? Start with good content. >>
3. Guest Posts (digital or print)
Funnel Stage: Discovering
Guest posts are articles you submit for publishing in external publications. For instance, our primary focus is the distribution industry, so our clients work with us to get articles published in industrial publications like Modern Distribution Management (MDM), Industrial Distribution, Supply House Times and many others.
Guest posts get your name and brand in front of targeted audiences and demonstrate your authority on trending topics. This is prime top-of-funnel content that gives you automatic credibility and exposure. And guest posts are excellent for thought leadership strategies.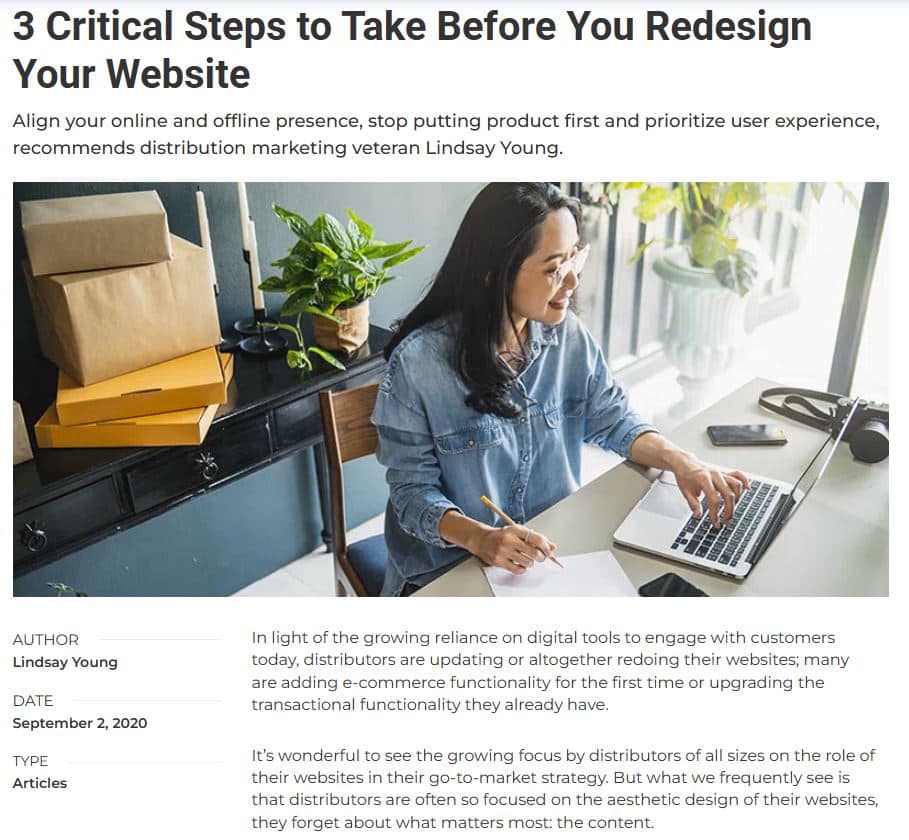 Before you start, set yourself up for success by reading our blog on getting published in trade magazines. It's full of tips — including what not to do if you want to get your article published.
4. Case Studies
Funnel Stages: Considering, Converting
Case studies are documented, customer-facing narratives of actual customer experiences. They frequently highlight metrics that demonstrate success.
All businesses can benefit from having case studies. They answer the common prospect question: Do you have any examples? Case studies help them understand what to expect from an engagement with you.
Case studies commonly include:
Challenge:

What drove the customer to seek you out?

Solution:

What service or product did they choose and why?

Process:

How did you help?

Outcome:

What were the results?
For example, we designed several case studies to help prospects understand our processes (see below).
5. Whitepapers/eBooks
Funnel Stages: Discovering, Considering, Nurturing
Whitepapers and ebooks are downloadable documents that provide detailed information about topics important to your audience. Often, they're "gated" behind a request for a name and email. But you can also make them open to download with a simple click (which you can track as a metric of success!).
These assets help individuals in multiple stages.
Discovering: A person in the discovery stage would search using option-related search terms like "types of x for x industry," "choosing the right x for my business" and "how to find an x provider." They're likely to download an ebook that directly answers their query.
Considering: A person in the consideration stage is vetting you. If you have a whitepaper dissecting current trends in the industry — addressing their real-world challenges — you can gain credibility with them. Other approaches include outlining a process from start to finish or getting more detailed about a product.
Nurturing: A customer in the nurturing stage is already on board, but there's always room for improvement. Stay a trusted resource. Provide resources that help them enhance their experience, navigate current challenges and even learn other ways you can support them (and expand their accounts!).
6. Original Research-Based Reports
Funnel Stages: Discovering, Considering, Nurturing
Original research reports are reports you develop based on your own surveys, interviews and research. They position you as a direct source of current industry information. If you produce them regularly, audiences will come to expect and anticipate them. Such reports:
Put you on new prospects' radars.

Build your credibility when prospects are vetting you.

Build trust and credibility with existing customers or members.
Think research reports are the way to go? Learn how the process works. >>
7. Testimonials
Funnel Stages: Considering, Converting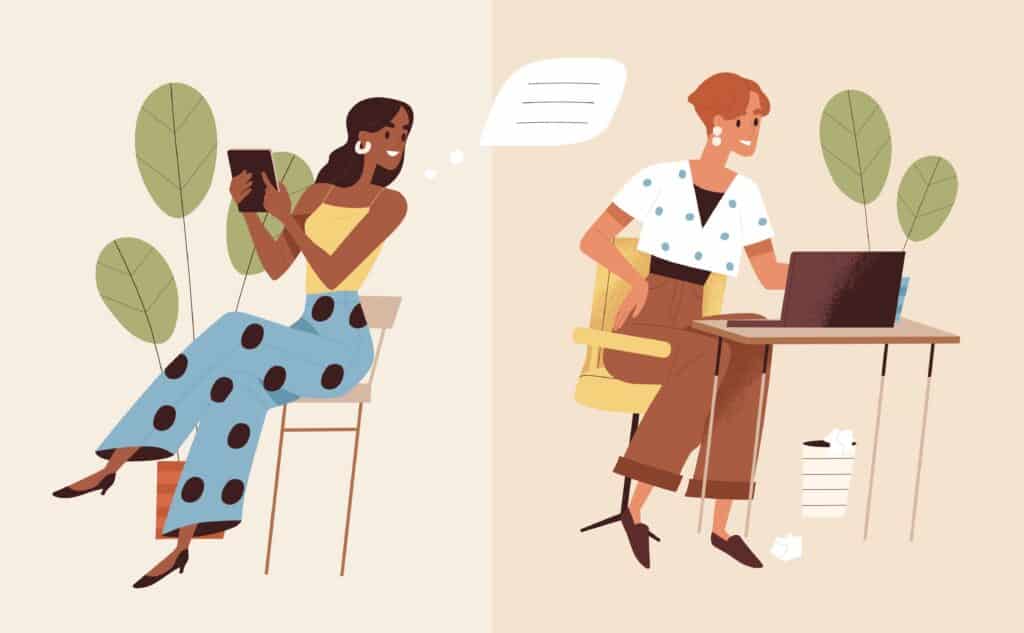 Testimonials are quotes from customers about their experience working with you. They can be as short as a sentence, and they have powerful influence in the consideration and conversion stages. Both B2B and B2C buyers trust user-generated content and social proof to help them make decisions — and convert.
8. Sales Leave-Behinds
Funnel Stages: Considering, Converting
Sales leave-behinds are materials designed to be left with prospects. They can be as brief as a postcard-size flyer and as detailed as a fold-out brochure. They include information pertinent to the audience, situation and/or event they're created for. They should also have contact and website information.
Even with the sales process moving ever-more digital, sales leave-behinds remain incredibly effective. And such materials aren't limited to print. Teams find success attaching them to emails with prospects, and they can be repurposed for social media and email marketing.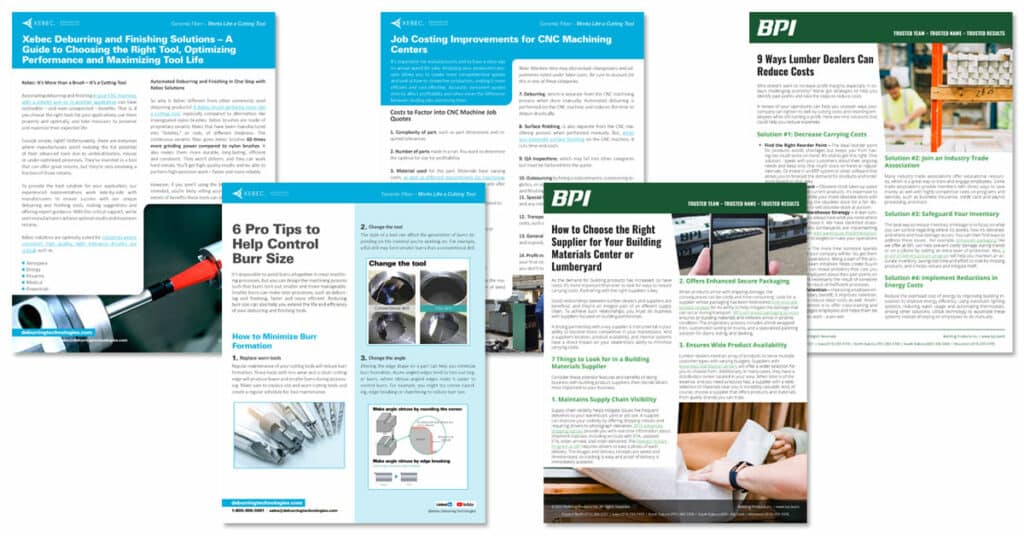 9. Social Media Posts
Funnel Stages: Discovering, Nurturing
Social media posts are content you publish to social media platforms to achieve goals like building brand awareness or driving traffic to your site. Social media is a great way to get your brand in front of people who might not have found you otherwise. It's also great for building affinity with your existing customer base.
In B2B, a social media marketing plan generally involves your company's social accounts. However, you can also involve company stakeholders like employees and partners by tagging them and asking them to engage with and share your posts.
Keep in mind that people use different social media channels for different reasons. And your target audience may rely on one channel more than another when it comes to B2B research.
10. Email
Funnel Stages: Considering, Converting, Nurturing
Email content is any content you email on behalf of your company. That includes newsletters sent to all customers, email campaigns to targeted lists and even individual emails your sales reps send directly.
Emails sent as part of your email marketing program can help buyers in nearly all stages of the funnel. For example:
Newsletters can nurture existing customers, keeping them in the know, helping them get to know your company better, and alerting them to new releases and opportunities. They can also help prospects on your list learn more about you and your offering.
Targeted email campaigns can connect prospects in the consideration phase to the information and materials most relevant to them. And existing customers can gain further understanding of your offerings related to them (and expand their accounts).
Personal emails from your reps can help move prospects along the buyer journey and re-engage prospects who've drifted away, especially if you arm your reps with effective sales enablement materials they can include.
Want to boost your open rate? Try these subject line ideas. >>
11. Infographics
Funnel Stage: Discovering, Considering
Infographics are engaging visual representations of concepts you want to convey with your content. Often, they're created as more succinct and easy-to-digest versions of longer-form content. For instance, you could design infographics that:
Highlight key findings from your research.

Demonstrate quantifiable benefits and ROI of using your product or service.

List quick steps for accomplishing a task related to your product or services.

Summarize your company's accomplishments over a period of time.
You can use infographics in multiple channels, such as social media, your newsletter, prospect emails and blog posts.
12. Videos
Funnel Stages: All
Videos as a B2B content type can take many forms and reach audiences in all stages.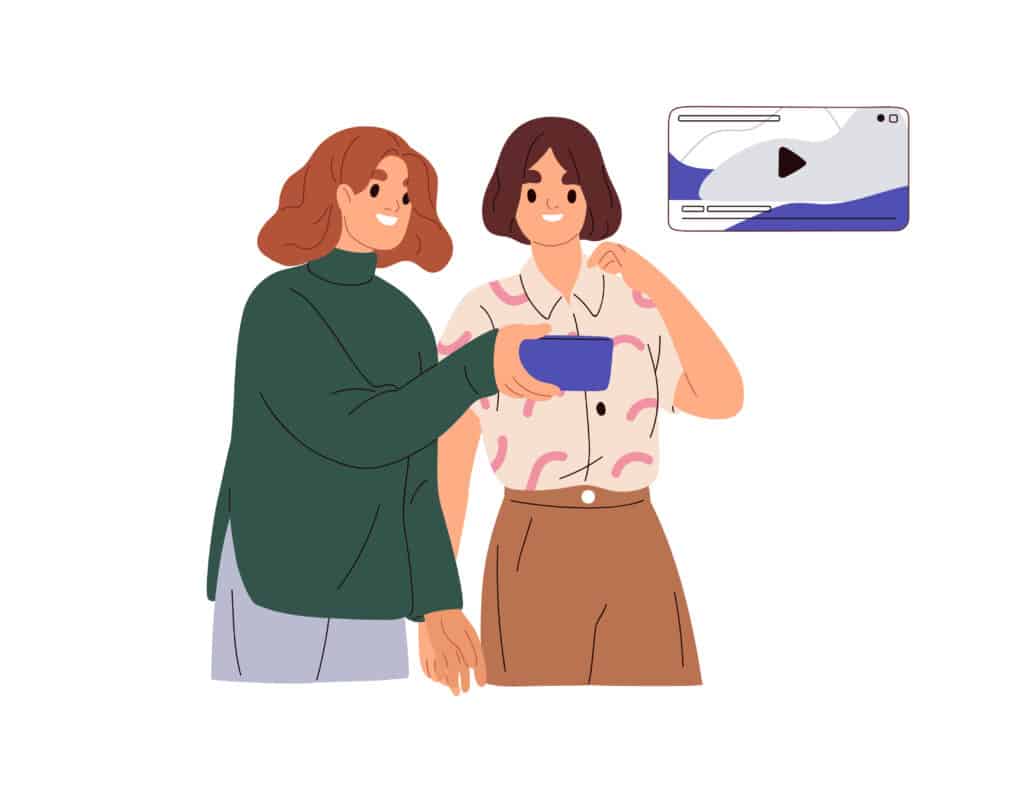 Webinars support buyers in the discovery and consideration phases. They're typically educational, covering current trends or offering how-to advice. They can serve as an introduction to your company, experts on your team and your authority on various topics.
Video tutorials can help buyers in all stages. A technical tutorial can show existing customers how to use your product optimally. A tutorial for the discovery stage could cover a broader topic in which your product or service fits.
Demo videos help in the conversion stage, showing prospects exactly what to expect from working with you or purchasing your product.
The possibilities with video don't end there. You can share short videos covering product details on your social media and embed them in blog posts where relevant. You can also share videos that highlight your team, building affinity with existing customers and showcasing your culture to prospective talent.
Learn how to optimize YouTube videos for search. >>
13. Product Overviews
Funnel Stages: All
Product overviews are materials that provide specific details and requirements of products. According to Semrush, they are the most effective content type for buyers in the converting stage, though they are also effective for other stages.
Product overviews can come in many forms, including:
Technical sheets

Product landing pages

Product copy for ecommerce

Sales enablement materials

Leave-behinds
14. Podcasts
Funnel Stage: Discovering, Considering, Nurturing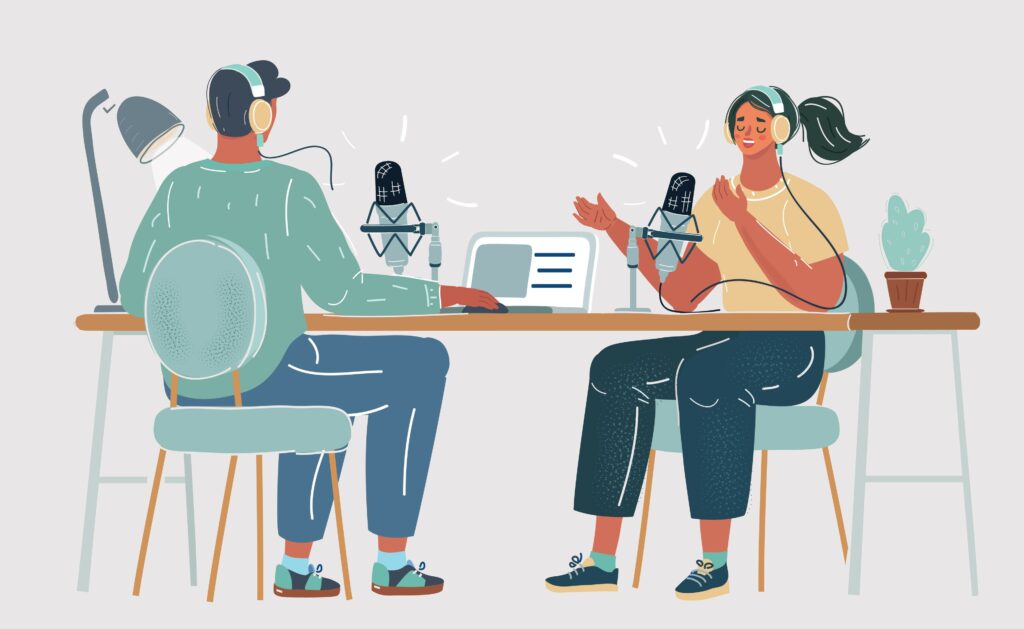 Podcasts are audio files you produce on behalf of your company and make available on streaming platforms. Podcasts perform in several stages of the marketing funnel, but most companies use them to build brand awareness, establish their expertise and educate audiences. In B2B, you can use your podcast to:
Host panel discussions on industry trends

Provide tips related to your product, service and/or industry

Interview thought leaders and game changers in your industry
A podcast's work doesn't have to be finished once it goes live. Amplify each episode's value with content repurposing. For example, you can clean up the transcript, turn it into a Q&A blog and embed the podcast episode on the page. You can also use snippets of the audio or visual files on social media.
15. Slide Decks
Funnel Stages: Discovering, Considering, Converting
Slide decks are presentable forms of content organized in a series of slides, often in briefer language and with visuals. They count as types of B2B content because they often play a critical role when:
Discussing and demonstrating your product or service with prospects.

Presenting on a trending topic at a conference — and tying in your solution.

Conveying information internally to set team members up for success.
Hot Tip: Our team regularly works off slide decks to create other content types, such as blogs and ebooks.
16. Internal Communications
Funnel Stage: N/A
Why are internal communications a type of B2B content? Because your employees are your most valuable resource, and businesses should pay attention to employee-facing messaging and support. Not only that, but properly conveyed internal communications help your employees perform their jobs better. Internal communications materials could include:
Email

An internal blog

An internal resource site (intranet)

Employee-focused social media accounts
Honorable B2B Content Mentions
Of course, the list doesn't end there. We didn't even get to:
Ad copy

Press releases

Catalogs

LinkedIn articles

Live events (in-person or virtual)

Courses (in-person or virtual)

Books (print or digital)
The audience you reach with these assets depends on your approach and goals. If you'd like to learn more about these content types and how they support the customer journey, don't hesitate to reach out!
How Will You Build Your B2B Resource Library?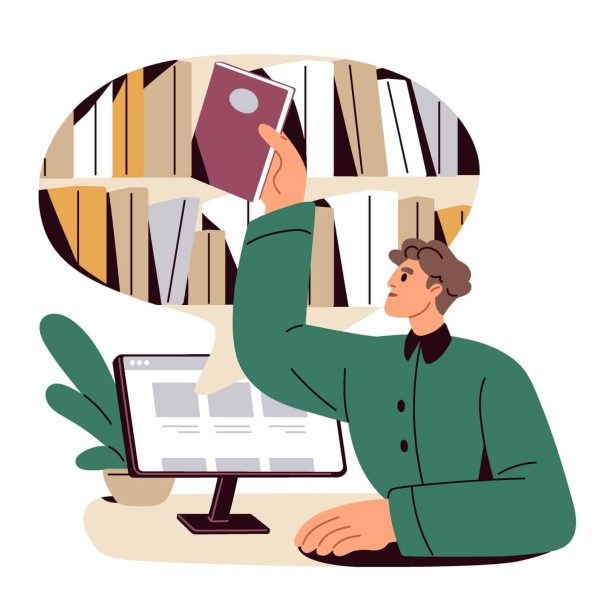 This is not an exhaustive list of all the possible B2B content types — but if you take it all on at once, you will certainly be exhausted. Our advice is to identify the stages of the funnel where you need the most content support and prioritize a few high-impact content types.
Here's your library-building checklist to get started:
Patience:

Slow and steady wins the race when it comes to content. Plan to start small and build a meaningful, intentional content library.

Insight:

Talk to your customers to find out what they care about and how they prefer to interact with content.

Technology:

Identify the technology you need to plan, produce and distribute content, such as platforms for team collaboration and a platform to house your blog.

Resources:

Identify team members who will participate in content production and outline responsibilities.

Ownership:

Identify who will be in charge of managing content and the process, usually a marketing leader on your team.

Expertise:

Identify experts you can lean on for first-hand knowledge (internal and partner).

Organization:

Build a content calendar to plan and track content, and keep all involved on the same page.
If you need help planning and producing effective content for your marketing funnel, reach out to us at [email protected]. Our content services range from messaging and strategy to design and distribution.