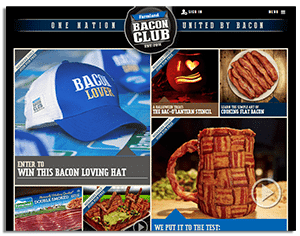 Learn the art of cooking bacon in the oven? Yes please.
A bacon beer stein? Sure.
A bacon margarita? Um … I'll try it once.
It's all courtesy of the Farmland Bacon Club. One Nation, United by Bacon.
Anytime you can build a content marketing strategy around bacon, I'm in. I have no way of knowing whether the Farmland Bacon Club is driving more sales of Farmland Bacon. But Farmland is following some best practices in content marketing in its approach. Here are a few best practices the website employs:
It's not overtly branded.
Sure, the company's name – Farmland – is in the title, but for the most part, that's where the overt branding ends. Consumers can be put off by blatant selling. Provide them with something of value, and they'll keep coming back for more. The Farmland Bacon Club has probably drawn far more eyes and engaged far more consumers than a website that only features the latest varieties of Farmland bacon. If you throw a sales pitch at consumers when they are not ready to buy, you will probably scare them away.
It has personality.
Not only do they have their own video hosts "with the mostest love for bacon," they've done a great job involving consumers with trivia, caption contests, bacon sculptures (yes, someone made a bacon dress) and more. The website also highlights events, including the Great Bacon Treasure Hunt. It's fun. And it injects personality; that helps consumers relate. And in this case, it makes them smile, which can only mean good feelings for the brand.
It gives things away that consumers want.
There's a balance all companies must strike between free and paid. And many companies that trade in knowledge or services are often afraid of giving too much of their secret sauce away for free. The Farmland Bacon Club website provides free recipes (bacon pancakes anyone?), giveaways and more for bacon lovers around the world. For companies that sell services, though, giving away the knowledge you would otherwise sell can be scary. But as one of my clients put it, great content provides a "preview" of what a potential customer gets when they buy.
Give them a taste, and if they like what they read, see or hear, they'll want more.
Now excuse me while I go make a BLT.
To learn more about how 3 Aspens Media can help your business grow using content, click here.