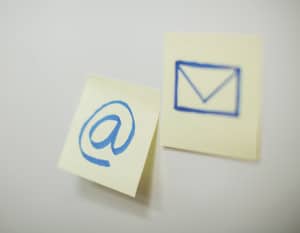 I'm not sure why, but every so often an article comes out that seeks to remind you that email is not dead. For my part, I've never considered it close to death. In fact, email is among the most powerful channels you have to reach your customers – if done well.
One of the most powerful email marketing tools is the e-newsletter, a consistently organized and branded email sent to prospective and existing clients at predictable intervals. The beauty of today's world is that every brand can become a publisher. These days, the tools available to put together and send an e-newsletter make it easy, even providing design templates. They are also pretty cheap; some even start out free for up to a set number of email addresses.
The challenge: You have to do email right. If you don't, you risk the opposite effect. Rather than engaging and building trust with your customers, you scare them away.
Here are some best practices when developing e-newsletters:
| | |
| --- | --- |
| Do: Include articles and resources that help your readers do their jobs better. | Don't: Dominate your e-newsletter with specials and product features. |
Effective email marketing requires trust, and you can make or break that trust on what you put in an e-newsletter. An e-newsletter is different from what I call an "e-blast." An e-blast's goal is to generally sell something or spur someone to action in some way. I get a lot of e-blasts from clothing retailers with their latest sales, and the primary call to action, or link, is to a product page.
You want your readers to want to open your emails. So in an e-newsletter, balance "salesy" material with resources and information your customers want. And consider the goal of your e-newsletter. You may want to provide general tips and advice around a particular topic, but it's also OK to have the email be product-focused – as long as it helps the reader. For example, a software company may want to highlight the latest greatest features of its product so its customers can take full advantage.
The bottom line: Frame your content from the perspective of your customer.
| | |
| --- | --- |
| Do: Spend time on your subject line. | Don't: Discount the importance of a subject line. |
There are no rules on what works and what doesn't when it comes to subject lines except for this: Subject lines matter. Don't spend all that time putting together the perfect e-newsletter only to have it ignored when it arrives in inboxes.
Depending on your goal, a simple subject line such as "Product Update: New Email Features" may be enough to generate a high open rate because readers want to know what those new features are.
In some cases, keeping the subject line generic works, especially if you already have the trust of your readers. Associations, buying/marketing groups and nonprofits fall neatly into this category because their members are invested in the organizations and aren't expecting a salesy message, but some businesses may, as well.
Example: In some surveys of open rates for newsletters, subject lines such as "Association News: May 2015" were more effective than subject lines focused on whatever the hottest topic in that email was. That's not always the case though, so be sure to test! Use the A/B testing feature in your email service to get the data you need to make the right decision.
In many cases a generic approach won't work (again – test!). If your goal is to pass along useful tips or resources on topics of interest to your readers, it is sometimes more effective to highlight a particularly hot topic to draw them in. For example, an e-newsletter whose feature article is on how retailers or distributors can beat Amazon should lead with a subject line of: "How You Can Beat Amazon." Undoubtedly, this will result in a higher open rate than something more generic. Numbers also work well in subject lines: For example, "5 Tips for Better Inventory Management."
| | |
| --- | --- |
| Do: Keep it clean. | Don't: Try to cram too much into one newsletter. |
Simple is good.
That doesn't mean you can't include a long list of headlines in your newsletter, but make sure it's well-organized and cleanly designed. It doesn't have to be fancy – could even be just text, as long as it's scannable and readable.
Well-known marketing expert and best-selling author Seth Godin's daily email newsletter is so simple, he doesn't include any images and even includes the entire text of that day's post in the email itself – something others are afraid to do because they want people to click through to their websites. One could argue however that more people read his blogs because he makes it easy – no clicking necessary. This is helped by keeping his blog posts short, sweet and to the point, read in less than 5 minutes, if that.
Keep imagery to a minimum and where possible, don't integrate text into an image. It's better for readability for all text to be text, as not all email providers will show images when the email is first opened by your reader. (To that point, don't forget to include alt text for your images – the text that appears when your images don't.)
When designing your email also consider that most readers will first see your email on a mobile device such as a smartphone. Many email service providers will automatically create a mobile version, and they will show you what your email will look like in that format as you are creating it. Sometimes readers will scan your email in mobile, and then, if they like what they see, they will read and/or click to view on your website. (Is yours mobile-friendly? Find out with this tool from Google.). Or they will come back later to view it on their desktops or tablets, where browsing and reading is easier.
---
3 Aspens Media offers e-newsletter production services. We'd love to help you create and manage an effective e-newsletter program. Give us a call today at 970-581-1752 or email us at [email protected].