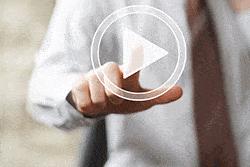 Forbes has dubbed 2017 "The Year of Video Marketing," and for good reason. Multiple studies published in 2016 showed an increase in online video consumption, and savvy marketers are taking advantage of this trend by developing and sharing more videos. Internet video streaming and downloads are expected to account for 80 percent of Internet traffic by 2020, according to a 2016 Cisco white paper. Marketers are responding to this growth, according to a 2016 report by Social Media Examiner, with 73 percent of marketers planning to increase their use of video marketing.
Here are five tips to help you improve your online video marketing, based on recent studies:
Don't assume millennials are the only ones watching.
According to Ooyala's latest video index, 60% of baby boomers now watch videos online.
Don't limit video content to company info.
While videos can effectively be used to share information and testimonials about your company, they can be just as effective when sharing information about your company's products and services, according to a report by Animoto. Four times as many consumers say they would rather watch a video about a product than read about it, according to the report.
Share your videos to the right places.
If the only place you share your video is on your company website, you'll miss out on the opportunity to reach a new audience, so be sure to share your videos on social networks. According to Animoto's 2016 Social Video Forecast, marketers and small business owners overwhelmingly (63 percent) named Facebook the most impactful social channel. LinkedIn and YouTube were the second and third most popular, respectively. Consider your audience when deciding which social channel will work best for you. For many B-to-B businesses, LinkedIn may be the best choice.
Make sure your videos are mobile-friendly.
Mobile now accounts for well over 50% of all video viewing, according to Ooyala's Q32016 Global Video Index. So make sure that whatever platform you're using to share your videos is optimized for mobile.
Consider live streaming.
Over the past 10 years, video has evolved from being linear (TV), to being available on-demand, to being semi-live with platforms like Snapchat (which require you to view videos within 24 hours), to being shown live thanks to platforms like Periscope and Facebook Live. According to KPCB's Internet Trends 2016 report, this evolution is accelerating. And marketers are following suit; while only 14% of marketers reported using live video in 2016, 39 percent say they plan to increase their use of live video, making this a trend to watch.